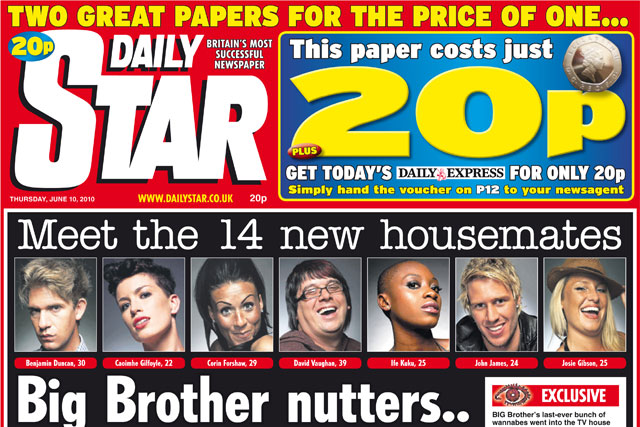 November 2000: Richard Desmond's Northern & Shell buys Express Newspapers from United News and Media for £125 million. Its assets include the Daily Star, launched in 1978 in a bid to muscle in on red-top territory dominated by The Sun and The Mirror.
September 2002: Although red-top Sunday newspaper circulations had been on the slide, Desmond decides the time is right to launch the Daily Star Sunday - he points, in particular, at the fact that the daily paper had been performing well (circulation up more than 12 per cent to 617,242 in March) and that the Saturday edition had been performing especially strongly. Early estimates are that the Sunday edition could be selling more than 800,000.
November 2006: Gareth Morgan had been appointed the editor of the Daily Star Sunday in 2003 - and he had made optimistic predictions about its potential. And it's true that the paper's launch increased the total circulation of the Sunday red-top market - but individual titles seem stuck in decline. And, indeed, just over four years after launch, the Daily Star Sunday's circulation dips below 400,000.
July 2009: The paper had pioneered a number of innovative promotional initiatives - for instance, in its early days, a two-for-one curry voucher. And instead of the ubiquitous DVD, it offered pairs of cinema tickets in a LoveFilm tie-in. Then, in July 2009, with circulation beginning to climb again (up 5 per cent in June's Audit Bureau of Circulations figures to 386,069), the piece de resistance - a free suntan lotion coupon to be redeemed at Superdrug.
July 2011: Following the shock closure of News of the World, circulation of the Daily Star Sunday almost doubled to about 750,000. It increased pagination, doubled its print run and launched a free supplement, OK! Extra - thus plugging into the popularity of the N&S title.
FAST FORWARD
February 2012: As the market continued to readjust in the wake of the launch of The Sun on Sunday, the circulations of all the other red-tops had increased slowly but surely for several weeks - but then hit a plateau. In order to kick-start growth once more, the Daily Star Sunday announces a new tie-in with LoveFilm, in which readers subscribing to the movie rental and download service are offered not just two but three free cinema tickets.