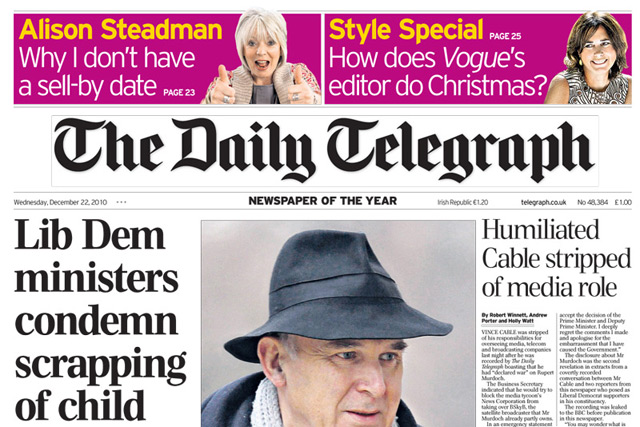 His indiscreet comments about a "declared war on Mr Murdoch," made to journalists posing as local constituents, have resulted in Cable being stripped of his powers to rule on competition and policy issues relating to media, broadcasting, digital and telecoms sector.
The sting has made headlines around the world and has led Ivor Gaber, professor of Political Journalism at London's leading City University, to question the nature of the Daily Telegraph's scoop.
He said: "I'm very concerned about this use of using subterfuge as a fishing trip. We're moving into a terribly worrying Stalinist society, where people are being tapped up for 'unclean' thoughts, it makes for horrendous journalism."
Gaber, a former investigative reporter at the BBC, ITN and Channel 4, pointed out that the Telegraph had sat on Cable's inflammatory comments about Murdoch and News Corp's bid to buy BSkyB for a day, a move the paper itself is opposed to, while publishing less newsworthy comments from the encounter.
He said: "Was it right to miss out undoubtedly the most important part of the story because it could, potentially, adversely affect the Telegraph's business interests?"
"This development could also potentially seriously damage MPs preparedness to talk with their constituents, for fear that they might be secretly recorded. Who gains? Certainly not the constituents who will now be fobbed off and probably only get to meet with MPs' staff. Likewise, MPs will increasingly loose touch with 'real people'."
Downing Street issued a statement last night calling Cable's comments "totally unacceptable and inappropriate".
Around 70 staff who work on media policy have been transferred to work under Tory culture secretary Jeremy Hunt.
Ofcom will be submitting its recommendation on News Corp's attempt to buy the 61% of BSkyB it does not own to Hunt on 31 December.