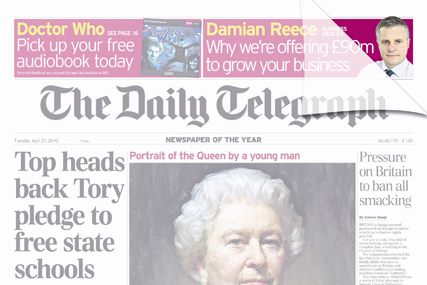 The ad has the strapline 'Turnover Turnover Turnover' on the front and 'Return Return Return' on the back.

It is first time this type of cover wrap has been used for a UK newspaper, according to the Daily Telegraph.

The ad was created by JWT London and media buying was handled by WPP-owned Mindshare. Another HSBC ad appears at the bottom of the paper's front page and takes up a quarter of the back page.

The cover wrap ad directs readers to the newspaper's business section, which publicises an initiative the bank has launched in conjunction with the Telegraph, called 'Business Thinking 2010', encouraging innovation and offering networking opportunities.

The campaign also offers a chance for businesses to share in £90m worth of funding, and a financial reward of up to £100,000 each, from HSBC.

Matthew Margetts, head of finance and corporate sponsorship, Telegraph Media Group said: "At TMG, we strive to find creative and innovative ways to make our clients' campaigns stand out, and we believe that the transparent cover wrap, another first for TMG and the UK newspaper industry, will be successful in achieving this."
The competition is referenced in comment column by the Telegraph's head of business, Damian Reece. and a write up on the contest appears on pages four and five of the business section, along with an ad for HSBC.