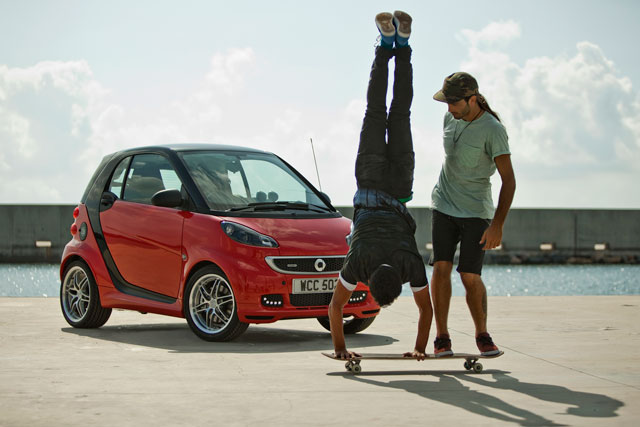 Smart has been in contact with agencies directly to invite them to pitch. The winning shop will create a pan-European campaign for its new four-seat model, Smart Forfour. The pitch is being run out of Daimler's headquarters in Germany.
Smart works with the BBDO network across Europe. The Abbott Mead Vickers BBDO-owned Weapon7 handles UK activity. BBDO is one of five participant shops in the pitch.
A spokeswoman for Daimler said: "Smart is conducting a project pitch in order to find the best creative
ideas for the transision of today's Smart Fortwo to its successor and the new four-seat Smart. Since 2006, Smart and BBDO have worked successfully together. This is why BBDO is set as participant in the pitch. "
The brand is ramping up its marketing activity to boost stagnant sales, which are down 3.3 per cent year on year. Small cars account for 37 per cent of all new car sales in the UK.
Smart has just launched its first sustained "brand offensive" in the UK in four years, beginning with a campaign for its Fortwo model.
Smart unveiled a cinema and viral ad this month, created by Weapon7, that shows a pair of skateboarders performing tricks while riding the same board. The ad unfolds in slow-motion, with the duo passing a Fortwo model at the end of the film.
In August, Smart launched a European TV campaign, called "facelift" and by BBDO Proximity Berlin, to highlight the latest design upgrades to its range of models.