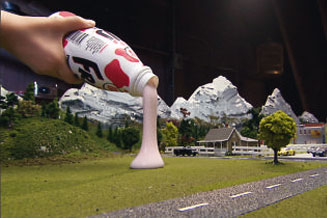 The agencies have been appointed following a pitch against Iris, which handles brand and communications strategy for Dairy Crest's milk&more service.
The brief is understood to include the implementation of a social marketing strategy, which is due to roll out at the start of 2010.
Dairy Crest's creative agency, Grey London, has previously worked on digital projects for Frijj, but the brand is now aiming to further boost its online presence.
In August, Frijj agreed a £2m deal to become the sponsor of Sky TV's Saturday morning football show, Soccer AM. The sponsorship includes 15-second show idents, plus five-second break bumpers. The clips, created by Grey London, show people playing 'swamp football' in knee-deep mud.
Last year, the flavoured milk brand unveiled a campaign which spoofed 50s US horror films. The digital campaign, also created by Grey London, was supported by online advertising as well as print and outdoor work.
According to Nielsen, dairy and dairy substitute drinks had volume sales of £382m in the take-home sector in 2008. Dairy and dairy-substitute drinks have a 6% share of the total take-home market.
Frijj, which launched in 1993, was one of the biggest growers in the sector last year, according to Britvic. In 2007, sales of dairy drinks had fallen by 10%.
Dairy Crest was unavailable for comment.