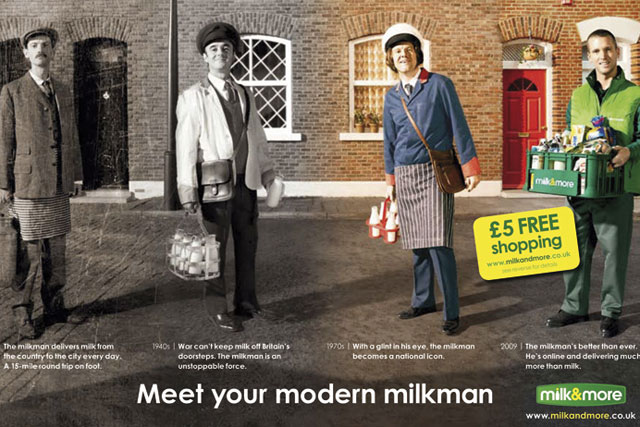 The dairy company has issued an RFI to agencies ahead of a pitch for the business. The review comes as the online service, which delivers groceries including milk, bread and eggs, looks to expand its delivery area.
Activity is expected to concentrate on digital and direct marketing.
Iris Worldwide has previously worked on the Milk & More creative account, but has not produced work for more than a year.
UM London, which handles media for Dairy Crest, is un-affected by the review, as is Grey London, which oversees advertising for Dairy Crest yellow fats brands, including Clover.
The most recent campaign by Iris, which ran last year, relaunched the milkman as the ultimate convenience store and used the strapline: "The little store at your door."
The agency built the online service from scratch through a PR, advertising, direct marketing and DRTV campaign. It recruited more than 400,000 customers and the service currently delivers to 1.4 million homes across the UK.
Milk&More's above-the-line relationship with Antidote will be unaffected by the review.
A spokesperson for Dairy Crest said: "Milk&more are currently looking for a CRM agency to help develop and deliver a CRM strategy to drive the next stage of online growth. milk & more have been managing CRM and digital in house since they parted company with Iris Worldwide last summer."
Follow @SaraKimberley