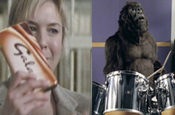 According to the annual Biggest Brands survey compiled exclusively for Marketing by TNS, Dairy Milk lost share in the take-home confectionery sector, posting growth below the 2% market rate to reach a sales value of about £200m. By contrast, Galaxy grew 12% year on year to about £80m.
Jan Jesenovec, confectionery analyst at TNS, said that Dairy Milk's loss of share may be due to a lack of NPD. 'Advertising will not significantly increase your sales,' he added. 'It simply reinforces the positions of big brands.'
Dairy Milk and Galaxy use very different marketing strategies, and Galaxy attributed its strong performance to its unique positioning, which targets women in 'indulgent moments'. The brand has also been boosted by several high-profile partnership deals, including ties with the Sex and the City movie and the British Book awards.
The majority of the brands surveyed experienced value growth due to price inflation. The take-home confectionery market as a whole grew 6% year on year to reach £2.48bn, and nine of the top 10 brands in the market increased their sales year on year.
This week, Cadbury shifted its global ad account out of Publicis and into Saat-chi & Saatchi Fallon group. A spokesman denied there had been a lack of innovation, adding that its latest data showed growth.
Chocolate market
Cadbury increased market-ing spend for Dairy Milk by 197% from August 2007 to July 2008, compared with the same period a year earlier.
Galaxy grew 12% year on year to reach a value of between £75m and £80m, while Maltesers grew 8% to between £70m and £75m.

Source: Nielsen, TNS/Marketing Magazine Biggest Brands 2008
See the full 2008 Biggest Brands report online:
Biggest brands: Top 50 grocery brands by sales 2008
Biggest Brands: Top 20 Brand categories 2008