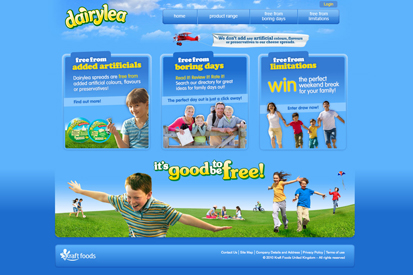 This replaces the "It's never grown up" positioning, which sought to depict the brand as light-hearted and fun.
Kraft plans to begin a marketing drive with a digital campaign promoting the message that the brand is free from artificial colours, flavours and preservatives.
It will also turn to TV ads, created by JWT, to take the repositioning to the mass market.
Creative digital agency J2, appointed earlier this year, has developed a website, Itsgoodtobefree.co.uk, which promotes the cheese as a "free from" option for children.
J2 has developed an integ-rated campaign to drive traffic to the site, which will offer nutritional tips and advice to parents.
The "free from" branding campaign will also feature the strap lines "Free from boring days" and "Free from limitations", as Dairylea promotes family holidays and days out to consumers.