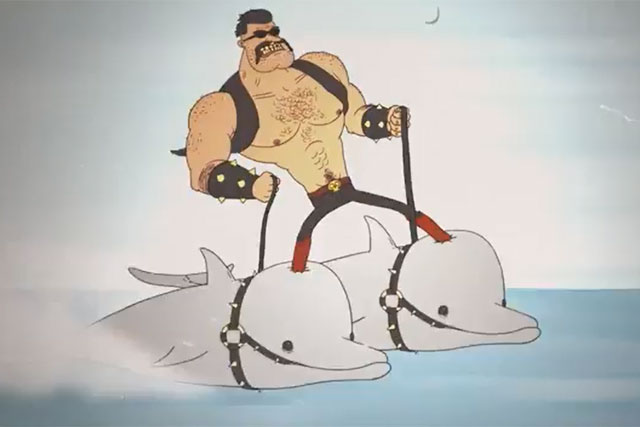 The cartoon ad, which was designed to get Denmark's youth engaged with voting in the European elections on the 22 May, features a character called Voteman, who is introduced while naked and having an orgy with five women, and who rides to the rescue of apathetic voters on two huge bridled dolphins.
The back story to Voteman's bare-chested, leather waistcoat-clad demeanour is suddenly explained, showing that he forgot to vote in a previous European election and left him with no influence on subjects such as climate regulations, agriculture subsidies, and how much cinnamon is allowed to be put in his cinnamon swirl.
These events changed the life of Voteman, who devoted his entire being to getting people to vote. He is shown ripping the stars off of the European Union flag and throwing them like darts in to people's limbs, walking in on people having sex and shoving them out of the window, and punching and kicking people in the face and into voting booths in order to get his way.
The ad ends with the statement: "Voteman is a fictional character. The opinions expressed are solely Voteman's. No hipsters were hurt in the making of this film."
However, the ad faced strong criticism, leading the Danish parliament caused it to remove the ad a day after it launched.
Mogens Lykketoft, the speaker of the Danish parliament, told Danish newspaper Ekstra Bladet: "Many people whose opinions I deeply respect have perceived the cartoon from the EU information centre as far more serious and offensive than it was intended, and believe it talks down to young people.
"I acknowledge that in the future Folketinget [the Danish parliament] as an institution has to show more caution in terms of what we put our name to."