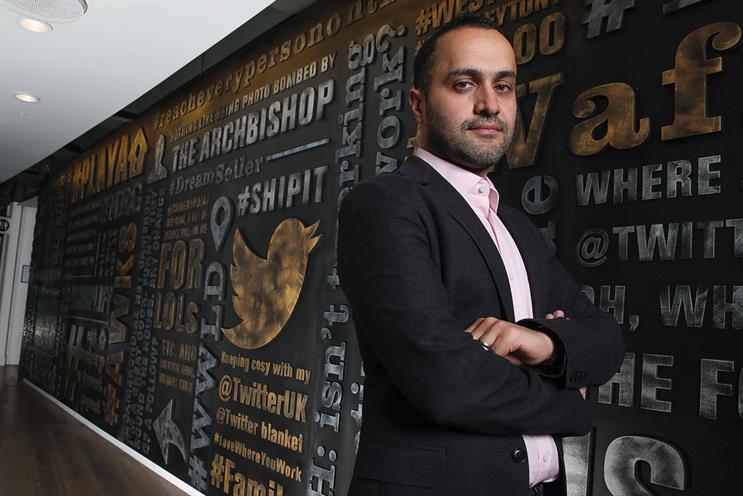 Although there were many disappointed ad sales executives last Saturday, one man not too worried about the effect of England's departure from the Rugby World Cup was Dara Nasr, Twitter's UK sales director. After all, his company went through a similar thing last year with England's woeful performance in the football World Cup.
"The greatest gift the England football team gave us was going out at the earliest possible scenario," Nasr explains. "It was heartbreaking at the time but it really showed the passion behind the sport itself rather than the team."
Nasr, who was promoted to sales director in February last year, is responsible for leading Twitter's UK commercial operation, working alongside its European vice-president, Bruce Daisley. Since joining the company in 2012, the sales force has doubled in size and moved into a shiny new office near Piccadilly Circus.
Twitter's previous home was a tired serviced space that survivors say had mice and a disintegrating floor. The new office befits a company that almost doubled its turnover to £58.2 million in 2014, according to Companies House figures published this week.
It is telling that, in the old premises, Nasr took pride in having the smallest desk. Barely bigger than his laptop, it earned him the nickname Nasr Mortgages as it was more akin to a call-centre clerk's workspace than that of a senior ad executive. But taking the desk for himself meant no-one else in the team could moan about their workspace.
After a summer of product launches, Nasr wants to explain why Twitter isn't as complicated as users and advertisers think. After all, when Twitter advertising first arrived in the UK, it was incredibly simple. Launch advertisers such as BP and Sky promoted Tweets in search results – and that was it. Four years on, there are Promoted Tweets in timelines, as well as search, Promoted Accounts, Promoted Trends and sponsorship partnerships.
Twitter also offers ever-increasing levels of targeting. Take rugby – brands can advertise to fans of the sport, supporters of particular teams or people who follow individual players.
Advertisers can also add images and videos lasting up to ten minutes to their Tweets. Nasr cites Pampers, which released a 90-second version of its TV ad on Twitter to coincide with the birth of "royal baby version two". Ads play automatically but brands are only charged if they are 100 per cent in view for three seconds, which Nasr says makes it a more "lean-in" environment than TV.
An audience insight dashboard is designed to help planners navigate the platform but Nasr admits advertisers need help. "Clients are seeing 300-400 media owners all the time to talk about their products. They might be seeing 14 TV stations but they're all selling eyeballs – agencies get it straight away," he points out. "With us, they get it, but we have so many products coming out and so many product developments, it's a real education piece."
Nasr's push to educate advertisers to drive growth coincides with investors' increasing concerns about user numbers. On Monday, Twitter confirmed it had reappointed the co-founder Jack Dorsey as its chief executive, replacing Dick Costolo. When Costolo arrived in 2009, he was the grown-up executive who could mature Twitter from adolescence into a public company. But, by the time Twitter's board accepted his resignation in June, his third attempt at handing in his notice, he had lost the confidence of Wall Street fund managers.
The stagnating user growth also troubles brands and agencies. "They have done an incredible job in the UK," Jed Hallam, the head of digital strategy at Mindshare, says. "But a lot of Twitter's challenges as a platform are out of their control. There are issues around the product from a consumer perspective. Now, it's a realistic pitch from Facebook that they're as big as TV. Twitter would never be able to say something like that."
A proud family man, Nasr is known for his dry sense of humour and work ethic. He will need both for the task ahead. Daisley, who brought Nasr over from Google, where they worked together in its display sales team, says Nasr was "probably the most important hire" made by the UK office. "He has that combination of someone who can make you work hard and inspire you," Daisley continues. "There are a lot of people with high IQs but there are not many with high EQs as well."
As Daisley finishes the job of setting up Twitter's offices around Europe, his attention is likely to turn to finding a successor as the UK managing director. After doubling pre-tax profit and revenue last year, Nasr must be in with a shout, although he would be too modest to say as much. One thing is for certain – if he gets the gig, he will not be moving into a corner office any time soon.
The lowdown
Age: 40
Lives: Beaconsfield, Buckinghamshire
Family: Anna (wife), Lola and Alexa (daughters), and Dave (dog)
Favourite media: Twitter (of course), TV and Netflix
Must-follow Tweeter: @mrnickharvey
Last book read: James Rebanks' The Shepherd's Life
Car: A dirty one that just accommodates Anna, Lola, Alexa and Dave
Motto: If you can't spot the fool in a crowded room within ten minutes, it's you