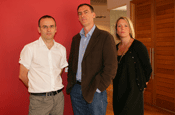 Claude Lessard, the Cossette chairman, told Campaign that he now plans to pull the group's four UK companies -- Miles Calcraft Briginshaw Duffy, Dare, Elvis and Band & Brown -- closer together and elect a UK president to oversee the group within the next two years.
The Dare deal could see the Canadian marketing services group pay in excess of £30 million for the digital agency over five years.
In 2010, Cossette has the option to increase its ownership to 82.7 per cent for a sum to be determined by the agency's profit growth, with the remaining shares to be acquired in 2012.
Lessard said: "I can see multi-discliplined teams working across the group companies, all of which could be in the same office building in the next two or three years. We are also looking to elect a UK president from one of the four agencies to oversee the group."
The initial £10 million acquisition includes Bartle Bogle Hegarty's 30 per cent share in the agency. Dare currently shares two clients with BBH, Barclays and Vodafone. These relationships will not be affected.
The remainder of the £10 million payment will be shared by Dare's management team, which remains in place.
Mark Collier, the managing partner, is the majority shareholder. The remainder will be split between management staff including John Owen, the planning partner, Lee Wright, the managing director and creative directors Flo Heiss and James Cooper.
Dare's last audited pre-tax profit for year ending June 2006 is understood to be around £700,000. Its annual revenue for 2007 was approximately £9.8 million.