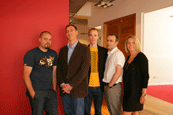 Claude Lessard, the Cossette chairman, told Campaign that he now plans to pull the group's four UK companies - Miles Calcraft Briginshaw Duffy, Dare, Elvis and Band & Brown - closer together and elect a UK president to oversee the group within the next two years.
The Dare deal could see the Canadian marketing services group pay in excess of £30 million for the digital agency over five years.
In 2010, Cossette has the option to increase its ownership to 82.7 per cent for a sum to be determined by the agency's profit growth, with the remaining shares to be acquired in 2012.
"I can see multi-discliplined teams working across the group companies, all of which could be in the same office building in the next two or three years," Lessard said.
The initial £10 million acquisition includes Bartle Bogle Hegarty's 30 per cent share in the agency. Dare shares Barclays and Vodafone with BBH. These relationships will not be affected.
The remainder of the £10 million payment will be shared by Dare's management team, which remains in place.