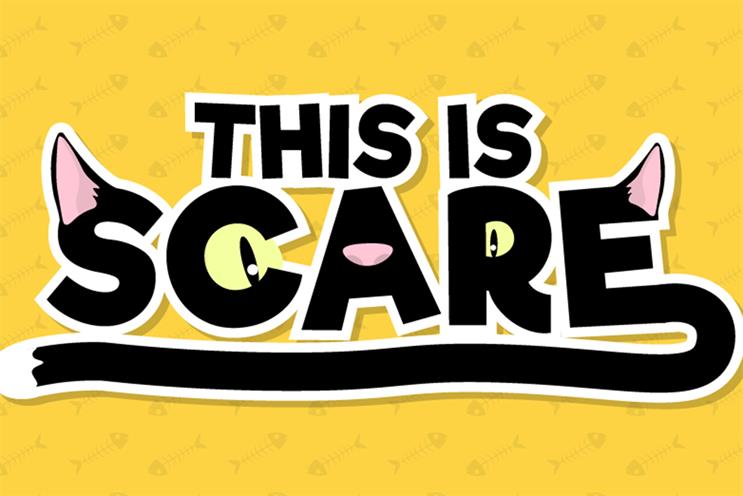 Dare has created a Halloween-themed Tinder-style app that pairs people with black cats that have been rescued and need rehoming.
The agency launched the This is Scare app to persuade consumers to adopt black felines, which have a hard time being adopted compared with cats of other colours, particularly around Halloween.
The app, whose name is a play on Dare's "This is Dare" slogan, apes the swiping mechanic of Tinder, allowing users to swipe left or right through a series of cat profiles. When they swipe on the black cat named Scare, they are put into a conversation with a so-called "cat-bot".
Users are encouraged to adopt a black cat or donate money via a Virgin Money Giving page, with proceeds being divided between Battersea Dogs & Cats Home, Cats Protection and Blue Cross.
According to RSPCA data, it takes 30.5% longer to rehome a black cat than it does a tabby cat, and 70% of the RSPCA's cats in care are either black or black and white. While the look and tone of the app is clearly tongue-in-cheek, it is designed to make people question their superstitions.
Michael Olaye, Dare's chief executive, said: "Who doesn't love cats? It's a shame to see so many black cats left behind while others get rehomed easily. It's sad to think people are more likely to choose a tabby cat over a black cat just because of old superstitions, or because they're not Instagram-friendly.
"At Dare, we work with new technologies and create digital experiences every day, so we thought we'd use our skills for a good cause this Halloween. We want to raise awareness, dispel the myths surrounding black cats and hopefully drive a few donations to animal shelters."