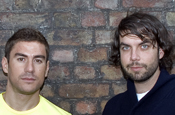 Pirata will be backed by the digital agency Work Club and will specialise in design, production and technical digital solutions. It aims to work for both digital and above-the-line agencies.

De Felipe, Dare's former associate creative director and a 2009 D&AD judge, and Boleas, Dare's ex-creative lead, will head Pirata with the former Work Club senior ?producer Cathy Olmedillas. A technical director will be appointed shortly.

Pirata has already been commissioned to handle projects for two digital agencies and one advertising agency, with work set to go live in early 2009.

De Felipe said: "UK ad agencies are commissioning much of their high-end digital production overseas. We're here to offer a face-to-face alternative here in London."