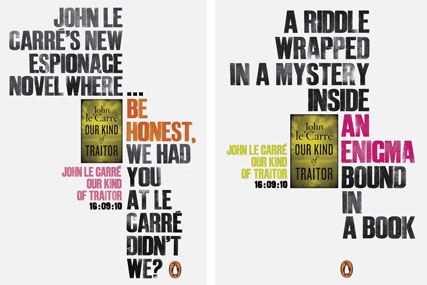 The agency, which won the business after a pitch, will launch its first iPhone app for Penguin's digital division in the coming weeks.
Penguin hopes that the apps will help it to break new ground in terms of reading experience, and combine the enjoyment of using touchscreen technology with the best parts of reading an eBook.
The iPhone content will build on advertising activity that already supports Penguin's titles. Next week, the publisher kicks off an ad campaign for the launch of John le Carre's latest novel, Our Kind Of Traitor.
The campaign, created by The Assembly, launches on 16 September and will run across sites on the London Underground and national train stations.
The Assembly won Penguin Books' advertising account in July after a pitch against undisclosed agencies.
Penguin Books has previously worked with Beattie McGuinness Bungay, which it appointed last year to a creative and strategic brief to re-evaluate how it launches new titles.
Flo Heiss, the creative director at Dare, said: "Penguin's incredible stable of authors gives us a unique opportunity to develop apps for the iPhone and iPad that push the boundaries of what it means to read a book."