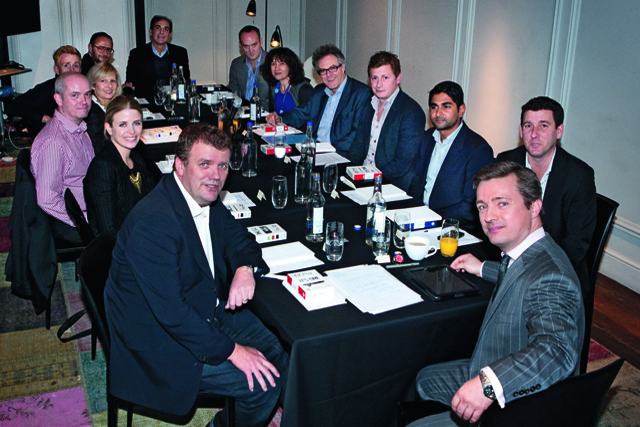 The future of media is digital and automated.
As more budgets move online and consumer habits shift, traditional media channels and processes have been disrupted. What does this mean for creativity (both in media strategy and content) and for the agencies charged with delivering it?
At a dinner hosted by Campaign and AOL Networks, industry figures debated how success for brands is being redefined in the digital space.
What are the shifts that have been brought about by data and technology?
Ian Edwards: Online is blurring with out-of-home and local. With our recent Stella Artois Cidre campaign, the insight was one that you probably couldn't have activated a year ago.
Norm Johnston: Using real-time digital data to adapt offline media is interesting. [Mindshare adapted the Kleenex offline budget according to the geographical incidence of flu.] We all talk about big data, but sometimes it's pretty small data that you can use.
Ed Ling: Trying to build scalable systems that enable you to do that is really important. But not just media; also creative, pricing strategies and marketing.
Johnston: There are now more practical applications where we can actually demonstrate ROI.
Frederic Joseph: There are two things we're getting better at. Access to feeds is now more structured and stable, and we're starting to see cross-channel, cross-device tracking of the user across screens.
Sue Unerman: We're in stage one of at least a two-stage revolution. Old thoughts are being delivered in new ways, but I don't hear about new things in new ways. The application of new technologies is yet to come, partly because we need the creative execution to be as different and exciting as the media thinking.
Guy Phillipson: I agree. A lot of what we've been talking about is the empowered consumer on mobiles, with penetration likely to be 75 per cent for smartphones this year and tablets going gangbusters.
Anna Yorke: We're using as much data as we can get our hands on and, often, we come out with a really rational answer. We'd have probably got to it anyway but, actually, it gives our clients the confidence to invest in something really obvious.
Noel Penzer: Brands, probably more than agencies, are finally understanding they have a role to play in telling a story to consumers, and you use data to build it.
Brian Fitzpatrick: Probably even more so with video. Display is not great for getting a message across. With emotion in online video and TV ads, it's even more important to get to the right person at the right time. Programmatic and first-party data helps.
Krishan Patel: We're seeing three trends: the evolution of programmatic and real-time data for display; the investment in mobile; and the shift in TV investment to online. We need to think about how we talk about multichannel, multiscreen stories and create plans where we can prove the effect of advertising across all of these media and allow programmatic to bring efficiency.
Bob Lord: Programmatic doesn't necessarily mean a race to the bottom. We've seen businesses disrupted from the time Henry Ford put the assembly line in the auto industry; there are efficiencies we've created with sparse technologies. I'm excited about the idea of automating all the inefficiencies. The other really interesting trend is the huge advertiser demand for real-time, trigger-based marketing. We have to solve the advertising problem that goes with that.
Unerman: I agree. The potential's there, but there's a lot of risk aversion and we haven't seen a great example yet.
Joseph: There's a trend we didn't mention: micro-targeting at scale [and customising messages].
Unerman: The question is: how does it serve the customer? Because there's a danger [given human nature] that it could not work.
Jim Brigden: That's a good point. We're here to challenge consumer behaviour and make them respond, and the problem in digital is that a lot of consumers are blind to advertising. What's really grown in the last few years is social, but also display graphical advertising.
Lord: The interesting trend, if you think about it, is that our industry has a potential. Marketers have moved from just selling products to a service. We have a responsibility to raise the value of a product… and wrapping it in a service opens up doors for us.
What are the imperatives in this 'brave new world'?
Yorke: Clients are a bit lost. With the proliferation of digital channels, they all ran straight to presence and forgot about their websites, and now they're stuck with something they know isn't working and getting detached from ROI. Now they realise they've got to tie their social content channels back to business objectives.
Patel: I completely agree. We find ourselves answering questions and demystifying. We need to get back to being proactive with clients.
Ling: Wendy Clark [Coca-Cola's senior vice-president, integrated marketing communications and capabilities] said you can no longer buy your way to greatness. Increasingly, we talk to clients about the owned, the earned and the paid [media] and how those parts fit together, and really the thread that joins all that up is servicing that data.
Joseph: Clients want two things: integration of knowledge in a single agency and best-in-breed specialists.
Unerman: I don't think clients are lost; they want to sell more stuff and there's a bunch of people out there they can sell it to. Agencies have made it complicated.
Johnston: "Lost" might not be the right word, but they are challenged to keep up with the pace of change.
Brigden: I spend as much time talking to clients about how they're measuring [and how and why their consumers are interacting] as about their strategy.
Edwards: We want to get the right message to the right people at the right time. We use clever strategies and technologies to do this, [yet] we continue to carpet-bomb. We need one simple strategy delivered to all touchpoints and to close the gap between acquisition and brand.
Johnston: I kind of agree and disagree with you there. One of the challenges is we've got all this data, all this technology, but we lack content – and it's expensive to create all that content.
Lord: What advertisers want is to sell more hotel rooms [and so on]. The reason display advertising has gotten such a bad knock is because we've been doing one-way communication. So it's less about the impression base [and more about reach], but then that challenges the pricing model. We've got to educate the industry.
Ling: It's great to use data-driven storytelling and great insights, and there's an interesting point about real time and using technology to reach people. But if you close that gap, that's the exciting thing. We can use programmatic as part of the solution.
Phillipson: Big brand ideas can go from "Just do it" to personalised messages. Increasingly, transactional data is informing brand scale at the top end.
Fitzpatrick: There's a great story: Tesco knows my cat died. [Because he stopped buying cat food.] Addressable is a huge opportunity but it could be terrifying to people if not done in the correct way.
What's the new role for agencies and media owners?
Penzer: What do advertisers want? Probably help to simplify the mad world of digital.
Fitzpatrick: We should try to demystify what effect video has on search.
Phillipson: If I could chuck a stat in – in the first half, total digital grew 17.5 per cent; display grew at 24 per cent. So it's growing faster than search. Mobile display is growing [1,200 per cent], in mobile video particularly, and social display is doing pretty well. Video is going gangbusters… it's back up to 85 per cent growth. And big-brand advertisers are saying there's an insatiable appetite for video.
Lord: The size and scale that you guys bring as media companies is something we're not currently leveraging to shape the market. If you were to force the automation with the video publishers… if you don't, the large brand advertisers are likely to get there ahead of you.
Unerman: That's got to do with the relationships between the media agencies, the clients and the creative agencies as well.
Phillipson: The native advertising buzz is going round. It gets advertisers to think like publishers, so they might want ten to 12 deep relationships where they can put their own content into the CMS.
Johnston: But it can be tough to do this stuff and companies aren't set up to. So it's either making the advancement or partnering with someone like AOL.
Yorke: One of my biggest frustrations in this new world is that we need to work holistically, but that takes a lot of time [and new structures and models]. So scaled programmatic advertising is great if it can take some of the man-hours out.
Brigden: There's also a big trend of globalisation, but a huge breadth of local implementation is required too. Clients want best-of-breed specialism and it's a tricky path to navigate.
Patel: One way to combat that is to work more closely with media partners… to take leaps of faith on both sides and really change the way we trade.
Penzer: We see the linear relationship between brand, agency and media owner disappearing in some
instances, but not all. If we can't move it forward, how do we make it work?
Edwards: Truly delivering base trading would be an incredible place to get to.
Joseph: With all the technology we have, we should be able to make better use of it, particularly in customer experience.
Bridgen: I'd like to see clients and agencies using digital to create new brands and do good.
Ling: This notion of moving to a more outcome-based remuneration line is exciting. Using automation to drive customer experience will also be crucial.
Joseph: What I'd love is more trust from clients and more transparency in relationships with our partners and media owners.
Unerman: I'm hungry for the efficiencies automation will bring, so we can release strategic thinking and creativity to drive better outcomes for clients.
Phillipson: My wish is for more of the top thousand advertisers to be prepared for the mobile and tablet
onslaught [40 per cent of the top 100 have sites optimised for mobile].
Patel: We have a massive opportunity with online versus traditional TV… So, from a hyper-targeted and measurement perspective, let's learn from the past with display and take this opportunity and really grow it.
Johnston: I say the challenge for us is to have creative directors desperate to come here and talk about opportunities from their perspective and come up with some really compelling things. We're not there yet.