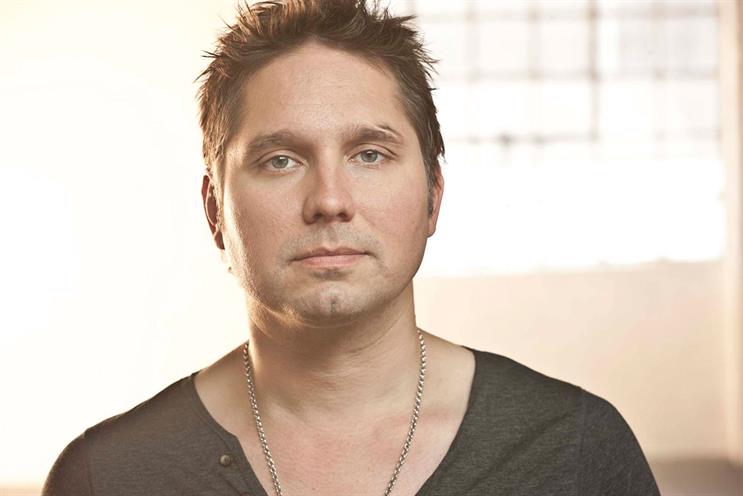 Data and creativity are often thought of as uneasy bedfellows. Yet the Snow Patrol drummer Jonny Quinn (pictured) is an artist who has embraced the numbers side of the business and is reaping the rewards.
Five years ago, he set up his own music publishing company, Polar Publishing, along with fellow band members Gary Lightbody and Nathan Connolly. The company has signed several artists.
What's particularly notable about Polar is the way it works with the digital technology company Kobalt to capture and use data. Polar uses data to increase artist payments, as well as to make decisions such as where to go on tour and what songs to play.
Quinn spoke at Havas Helia's recent event on data and creativity. Campaign asked him about his approach to data to see whether adland can learn any lessons.
When did you realise data was important?
Data became an important aspect of my business once I understood how our royalties were being collected. My publishing company uses an outside administration and collection service called Kobalt. It uses metadata, which is tagged to every song, to collect royalties from up to 700,000 revenue streams. The software it uses is game-changing and can earn artists up to 30 per cent more than traditional publishers.
When and how did you set up your own business?

I set up Polar in 2010 with Gary and Nathan and signed directly to Kobalt as our sub-publisher. We started the business with one songwriter and slowly added a roster of 20 artists/bands and four writers.

How does Polar differ from traditional publishing companies?
The main differences is that we set out to sign artists for shorter-term deals (for example, a one-album deal). It's an artist-run company and we tend to be more flexible in how the contracts are upheld. We also get involved in nurturing the talent outside of publishing.

How do you use data?
The data that Kobalt collects presents us with information that didn't previously exist for a band like Snow Patrol. For example, on tour we can adjust our set list in each country due to the info gathered on the songs' popularity.
I've dealt with Snow Patrol business for 20 years. There's a huge creative side to publishing, which is rewarding
Data is helping us know more about our market and audience, which could streamline our costs, especially with regard to touring. For example, if we can show our booking agent there has been a huge amount of streaming from Mumbai, then he can lift the phone.

Why don't more artists do the same?

There are some examples of artists like Mumford & Sons, who run the successful Communion label. But I'd say a lot of artists don't find the business side of music that exciting.
I've dealt with Snow Patrol business for 20 years, so I did have an interest. There's a huge creative side to publishing, which is rewarding.

Are there any lessons there for the ad industry?

Advertisers know some of their money is wasted in marketing in the wrong places, so data can inform you of where to spend in a more targeted way. We can show advertisers who our music reaches by age group, gender and location.


A case study: Bribry
By Jonny Quinn
Bribry is the latest addition to the Polar roster. He is a songwriter from Dublin who has more than 450,000 subscribers over two YouTube channels, 20 million views and 75,000 downloads. He has performed in sold-out tours in Ireland, the UK, Australia and New Zealand.
Bribry's career is somewhat unique in that he has managed to achieve success without the involvement of a manager, label or the music industry.
His engagement with fans through social media has meant he can sell tickets directly to them without paying fees to ticket agents such as Ticketmaster. He creates a solid fan base through "meet-ups". After gauging from Facebook and Spotify where he has strong followings, he announces meet-ups at a monument or park for a short gig. This has taken him from Canada to Latvia, and he wants to visit every country.
His YouTube channels post new vlogs every Thursday and Sunday, so his fans have something to look forward to every week – which is key to gaining new followers while not losing any existing ones.
The investment required from a record label to achieve Bribry's success to date could reach £200,000-£300,000. So it's incredible that through hard work, talent and, most important, using social media tools that require practically zero outlay, he can stay independent.
Data has been a huge help to Bribry's touring plans. True to this alternative career path, he is about to book a US tour using Gigstarter, which crowdfunds tours from existing fans and pays 33 per cent more than a traditional promoter, ensuing the venues are full and the artist never loses money.