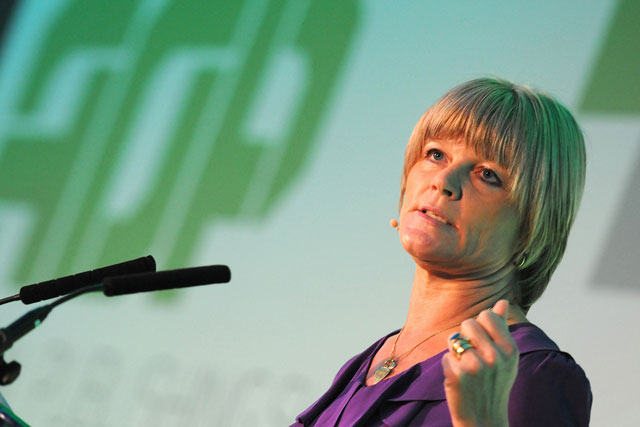 According to Fru Hazlitt, the managing director of commercial and online at ITV, the industry's growing obsession with micro-targeting in the online world is becoming counter-productive.
Speaking at the AOP Digital Publishing Summit, she painted a picture of an increasingly anarchic trading outlook, where notions of consensus and common trading currencies were breaking down.
Advertisers, she maintained, were now drowning in data. "If every publisher, agency and advertiser, not to mention network and ad exchange, develops their own customised targeting approach - which is happening - then things are going to get needlessly messy and confusing," she states.
"Just because you can target someone by their hair colour doesn't mean you should be doing it."
Online advertising systems offer greater targeting opportunities than ever. It's now possible (at least in theory) to probe greater degrees of accuracy in categorising people by demographics and lifestyle. Secondly, improved tracking systems have opened up opportunities to target people according to where they are in "the purchase cycle".
This takes the concept of targeting to a whole new level. Tellingly, though, the industry's technical expertise seems to be growing (some might argue) in inverse proportion to the ability of some clients and media agencies to understand the fundamental issues at stake.
Hazlitt argues that, as trading consensus is eroded, growth prospects could potentially suffer: "We need one standard approach across all major publishers, agencies and advertisers, so that it reduces transaction costs and really does create value."
Does the industry need to scale back its targeting ambitions? Marco Bertozzi, the managing director, EMEA, of VivaKi Nerve Center, doesn't believe so: "A common approach to ad targeting basically means keep it mass and keep it all the same. If it's mass, it works for ITV and its large share of audiences. That does not, however, mean it's right. On the contrary."
In fact, Bertozzi argues, Hazlitt's talk perhaps shows that ITV knows it is falling behind the pacemakers in the online advertising world.
He adds: "From an agency perspective, video-on-demand can be bought through the trading desks as a single buy, even though the campaigns being delivered are accessing inventory from more than 100 publishers. Targeting niche audiences can be efficient.
"ITV wants to maintain wastage. But who does that benefit? ITV doesn't want third-party ad serving, it doesn't want trading desks and it doesn't want inventory to be addressable and biddable. This is all about fears of losing control."
Hazlitt was, of course, formerly the UK sales boss of Yahoo!. But James Wildman, Yahoo! UK's current managing director and vice-president of sales, finds her arguments unconvincing.
"Making things easier for advertisers is about giving them a choice of tools to select the right audience for the best results - but, importantly, doing it at scale," he explains.
"With our monthly audience of 27 million unique users and the wealth of proprietary data those users generate, we believe we have unrivalled science at our disposal to offer advertisers some of the most advanced and accurate audience targeting solutions in UK media, delivered at scale and complemented with creativity and art."
It's all a matter of balance, Norm Johnston, the global digital leader at Mindshare, suggests. He argues that, in some circumstances, common currencies, standardisation and simplification are good things. But not if they stifle innovation, especially when that innovation is delivering provable results.
"I hear Fru's exasperation, but things are only going to get worse - or, from my perspective, better. Look at the results from IP-enabled TV in the US, where homes receiving addressable micro-targeted advertising tuned out 38 per cent less than those with non-addressable ads," he states.
He stresses: "Yes, there are some marketers who are simply not spending enough in digital or in creative assets to make precision targeting. However, there are many, particularly those focused on direct response, who are seeing a real improvement in ROI by adopting such tactics."
Damian Blackden, the president, international, at Omnicom's Annalect, points out that the industry can't and won't stand still. He concludes: "Standardisation in media is often a helpful process, but if social demographics are being proposed in this instance, then it will hinder advertising innovation."
NO - Marco Bertozzi, MD, EMEA, VivaKi Nerve Center
"The world is moving on and ITV is trying to hold on to shifting sands. Clients want one-to-one targeting at scale - so, yes, the audience examples Fru decries as over-elaborate are relevant, and we can buy them through audience-on-demand."
NO - James Wildman, MD, Yahoo! UK
"We believe that fine-granularity targeting offers us a key point of difference and a critical benefit to clients. A TV-like model would not only hurt innovators but also deprive clients of choice and lead to a homogeneity of mediocrity."
NO - Norm Johnston, global digital leader, Mindshare
"Marketers shouldn't worry about drowning in data. We can help them navigate the options and get better returns by combining contextual-based macro-advertising with data-driven micro-targeted approaches."
NO - Damian Blackden, president, international, Annalect
"Targeting doesn't always trump context, but we can now buy consumers on an individual-by-individual basis - so I want to be able to target them with a high degree of detail. That's the point."
Got a view? E-mail us at campaign@haymarket.com