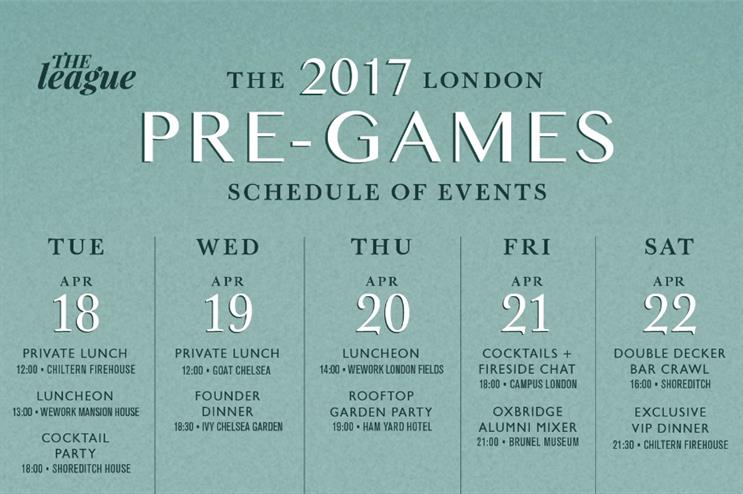 The League, a new dating app aimed at intelligent, educated, and ambitious people, currently operates in New York, Los Angeles, San Francisco, Chicago, DC, and Boston, but has plans to expand into 10 international cities in 2017.
Ahead of its London launch, the brand is hosting the 'London Pre-Games' – eight invite-only events at top London venues from 17-25 April. Venues include Shoreditch House, Ivy Chelsea Garden and Ham Yard. The guest list for each event will be between 30 and 100 people depending on the venue, of which 30% will be celebrities, influencers, tastemakers and press. The other 70% will be The League's top applicants. Those selected for the London Pre-Games will be automatically granted founding member status and will be given a complimentary lifetime membership.
Meredith Davis, head of communications and partnerships at The League, said: "A product launch is identical to throwing a party, and behind every party, is an epic pre-game. Instead of making The League immediately available to the public The League drums up excitement months in advance with intriguing marketing, events and social content. Group exercise events, pre-launch parties and themed social mixers to spread the buzz about us contributed to thousands of sign ups before the product was live.
"Our specific marketing tactics are similar to marketing your own party. First you have to build an invite list, then you need people to show up, and finally you got to act cool. When building our invite list we used the VIP approach in creating target lists and meeting those people in person. To get them to 'show up' we gave them access to special pre-launch events."
The events are being organised by The League's in-house events team.
More: This month Deilveroo and Three launched virtual dinner dates and last month dating app Bumble activated at the Oxford vs Cambridge Boat Race.
Follow @alison_ledger