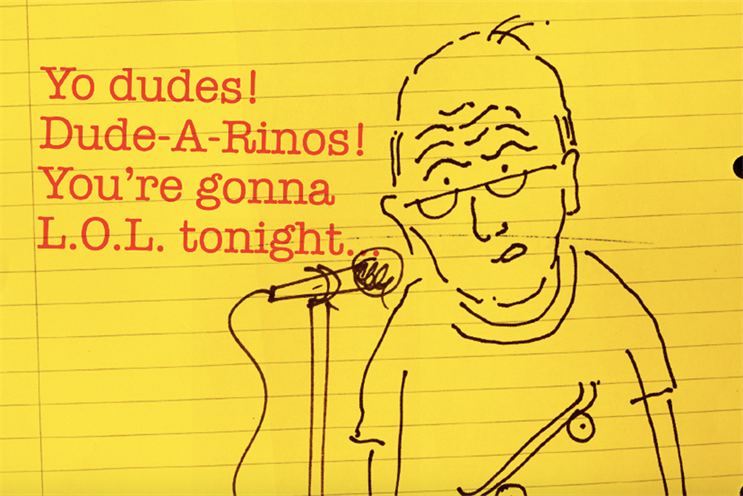 A few months back I had lunch with Jeff Stark. Grilled sole, I think Jeff had sea bass… no he had sole and I had… grilled tuna.
Or marlin. Actually, it's not important.
I should explain, for the post-Laverne & Shirley generation, that Jeff was a writer and then executive creative director of Saatchi & Saatchi, when they were at their absolute peak.
He wasn't one of those writer writers, where your reaction to their ads is likely to be 'oh that's clever' or 'what a nice turn of phrase'.
Jeff's ads were more likely to make you think 'I must get one of those'.
Probably because his background was in selling not advertising – car salesman, market stall holder, mail order writer, he basically spent his 20s trying to shift stuff, not create.
As a result, his ads always connected the thing he was selling to the person he was selling it to.
Anyway, at lunch he told me he was planning his third act: going back into stand-up comedy.
(He used to do stand-up at the Comedy Store, alongside Rik Mayall, Alexei Sayle and that whole generation of new wave comics back in the early '80s.)
But before he could start writing his act, his instinct told him that he'd have to start by addressing the elephant in the room: 'Why has a 75-year-old bloke just walked onto the stage?'
Essentially, he's given himself a brief.
Instead of connecting with a target audience he's trying to connect with an actual audience.
How does a 75-year-old comedian connect with an audience of beardy 20-somethings?
At the moment, it feels we often start writing too quickly, creating endless piles of paper and options before solving the fundamental issue.
Not surprisingly, the results are often superficial, gimmicky and tricksy. The solutions to Jeff's problem would be in the ballpark of: 'Dress HIM like THEM!', 'Make THEM laugh straight away… wear funny clothing!' or 'Talk like THEM… 'whatevs', 'amazeballs', etc, etc'.
But Jeff knows that an audience won't buy him pretending to be something he's not. Whether instinctively or subconsciously, he tackles this problem like he used to tackle advertising problems.
He figures out a way of making the product, in this case himself, totally relevant and compelling to the target audience.
Jeff to audience: 'You know when you go to somewhere you've never been, abroad, on holiday, reading the guide books is ok, but it's better to speak to people who've actually been there, they give you a much better understanding of it.

Well, you lot are coming to my country, 'Oldsville.' And I'm going to tell you what it's like.'
Ears prick up, the audience is ready to buy.
Brilliant.
Dave Dye is the head of art and design at J Walter Thompson. He writes the blog Huge Generalisations for Campaign.