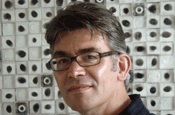 Harris replaces Steve Harrison, the worldwide creative director and co-founder of Harrison Troughton Wunderman, who left in May to pursue other interests.
This is the first senior hiring at Wunderman since WPP axed the HTW name and rolled the agency into Wunderman Automotive in July.
At the time, Trish Wheaton, the president of Wunderman in Canada, was drafted in for an interim period to facilitate senior hirings at the agency. Harrison's departure was followed by that of the agency's chief executive, John Butler, who left when the agencies merged.
The agency is yet to appoint a new CEO, and in the interim, Harris will report directly into Wheaton.
Wheaton, said: "Dave is delightfully collaborative and he is digital-savvy, which is where Wunderman is focusing its investment."
Harris, said: "This opportunity combines the best of both worlds for me. It has the entrepreneurial feel of a start up (albeit a very large one) with the backing of a global network."
Harris left LIDA in March amid rumours that he was plotting a start-up.
Prior to setting up LIDA alongside Lisa Thomas in 1999, he held the role of executive creative director at IMP for four years. His career also includes a stint as a senior art director at McCann Erickson.