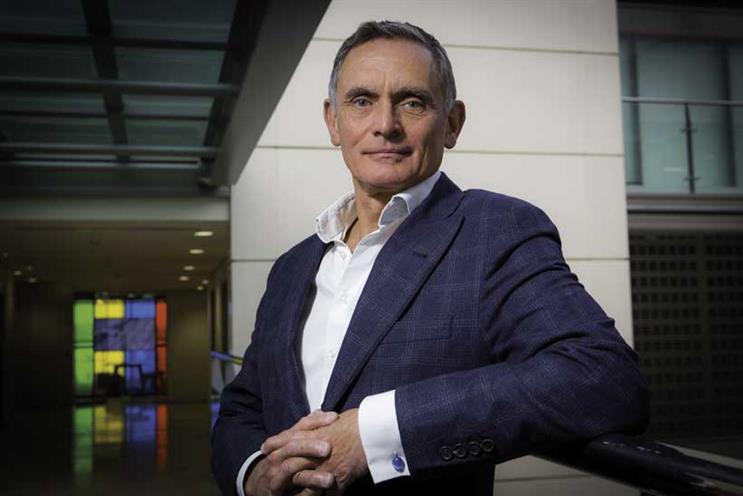 Sometimes a headline hits a nerve, and Dave King remembers Campaign's interview in 2005, when he become executive director of Telegraph Media Group. "Can Dave King turn his hand to newspapers?" was the headline and the suggestion from one rival was that the former Emap ad sales boss would last "about a year" before Murdoch MacLennan, chief executive of TMG, "ate him alive".
It was, King recalls, "quite a motivational headline" – although he was already known as one of
media's toughest operators. Over the next 12 years, he turned TMG's print business into a more digital, diversified operation. Revenues held up strongly and profits jumped 50% while others struggled.
King made "a fantastic contribution", MacLennan says, while a rival concedes: "The Telegraph probably did a better job than anyone on revenue in the last ten years." Exterion Media, where King starts as UK managing director on 23 January, says it hired him because of his success in "transitioning traditional business models into the digitised world".
"This is about creating a clear plan, executing that plan, hiring the right talent, creating the right culture" -Dave King, Exterion Media's MD
So, as King sits down in Exterion's new offices – a shiny, "agile" workspace in Holborn – he knows he has to prove the doubters wrong again.
"Of course I can turn my hand to out-of-home," King says, pointing out that he bought outdoor in his days at Carat in the 1990s. "This [job] is about how you run a media business. This is about creating a clear plan, executing that plan, hiring the right talent, creating the right culture, putting your customers right at the centre of your business." And, he notes, "a lot of those customers are the same" agencies and clients that he handled at TMG.
The UK OOH sector is in "relatively rude health", King says. Revenues are forecast to increase 2.8% this year, according to Group M, with growth of 17.5% in digital offsetting the decline in "classic" posters. OOH still requires "huge transformation" but has "a bright future driven by digital, driven by data", King states.
Exterion is in a strong position after Jason Cotterrell, King's predecessor, helped to win Transport for London's expanded Tube contract. It is meant to generate £2bn over eight years and peers say hitting those growth targets will be King's biggest test.
Platinum Equity has got a handsome return since buying Exterion in 2013 and King likes the idea of working for a private-equity company. He has been in a start-up (Yershon Media), an established agency (Carat), a listed company (Emap) and a family business (TMG). Industry chat suggests a sale or float for Exterion is in the offing.
King also likes the fact that Exterion is "a challenger brand" that is aiming for "market leadership".
JCDecaux has upwards of 35% share, Exterion holds just shy of 25% and Clear Channel nearly 20%, observers say. He won't predict how long it might take to be number one in a sector ripe for consolidation. "I believe you have to aim high," King says, explaining that he likes to set targets and KPIs. "I like clarity. Everyone benefits from clarity. Teams need to know how they're performing."
His focus on share is said to be obsessive, but he thinks that's an exaggeration: "I'm very competitive – share is a measure of my competitiveness." A former colleague says: "He'll ask the newest starter: 'How is Dentsu doing? What share are we getting?' People are terrified about what share they are getting. I've never ever seen anything more effective."
King insists his 350-strong UK team at Exterion can "grow the medium" and take share off other media such as TV, not just OOH rivals.
He is proud of how he changed TMG and describes a three-pronged approach: "Constantly bringing new products to market", "super-serving" advertisers and building "an innovative sales team". That involved smart trading mechanics, investing in content division Spark and launching "commercially driven" magazines, a luxury website and apps in travel and finance, King says. TMG also set up an events business and turned reader offers into ecommerce.
"It's been about finding new revenue streams and growth," King says – and he plans to do the same
at Exterion.
The lowdown

Age 57
Lives Buckinghamshire
Family Married to Amanda, plus children Scarlett, 26, Poppy, 16, and Alfie, 13
Favourite outdoor ad Paco Rabanne's twinkling wrapped buses
Interests Football (Manchester United and my local team, Wycombe Wanderers), cricket, golf, tennis and reading autobiographies
One thing you don't know about me I left school to be a bricklayer at 16 and went back within six weeks

Some say King – the son of a builder and a council administrator who grew up in Aylesbury – is a trader, not a strategist. But he counters: "To be a successful commercial person, you have to have a good understanding of strategy." He has been to business school twice – Emap sent him to Stanford and TMG paid for him to go to Harvard last year, prompting speculation that he might depart.

Harvard was "a great experience" and "really intense", even if "it wasn't life-changing", he says, adding: "I leant into subjects like innovation, culture and strategy." It was also a chance to stand back. "One of the things about the media industry is: how really innovative are we? We do a lot of iteration and plagiarism," he says, referring to copying business strategy rather than journalism. "I felt I was ready for a new challenge."

Heading TMG's ad sales certainly came with challenges when its journalists were holding the powerful to account. Peter Oborne quit as a columnist in 2015, claiming the paper played down negative stories about HSBC to win advertising. TMG "utterly" refuted the suggestion that commercial influenced editorial, but it was a bruising episode.

Bridging the church-and-state divide remains an issue as advertisers want greater collaboration on
native ads and sponsorship. "Editorial integrity is key to the brand and I absolutely respect that," King says. However, journalists have come to recognise "over time" that there is also "a commercial imperative", he argues: "There's no reason editorial and commercial can't work together."

King's last work at TMG has been on an industry plan to pool newspaper ad sales in a bid to stem worsening revenues. "I think it should happen," he says. "I can't think of an alternative."

He knows Shaun Gregory, Exterion's chief executive, well. King hired Gregory for a spell at TMG and both worked at Emap, where they fondly remember its "winning culture".

King brings an outsider's perspective in contrast to Cotterrell, who has been at Exterion for 20 years and becomes group development director with an innovation remit in the UK and overseas. "This thing won't work if we don't work closely together," King says of his relationship with Cotterrell.

So what is King's management style? "I'm someone that likes to build teams, that likes to blend teams – some people are very strong at some things, not so strong at others. I'm someone that works hard and my teams work hard," he says, stressing that he also likes to celebrate success and have fun. "I'm a great believer that the harder you work, the better – so long as it's structured and sensible."