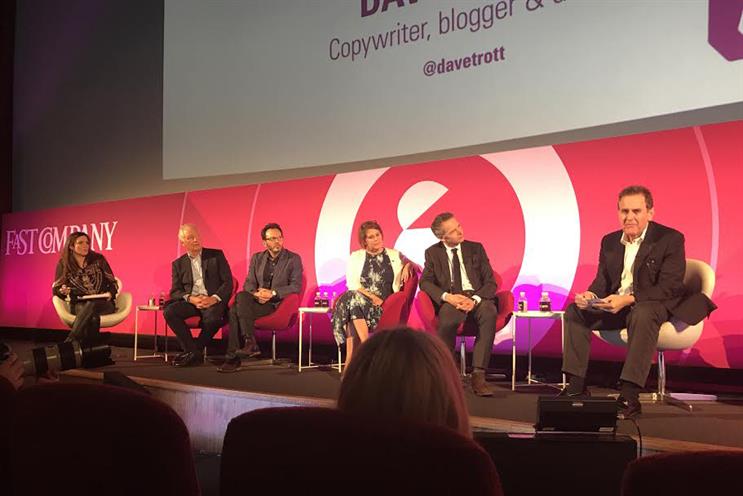 Dave Trott, the veteran creative, agency founder and author, told a panel of chief marketers from well-known brands that the democratisation of the account pitch process had not led to greater collaboration. Rather, in Trott's view, it had merely paid "lip service" to consumers.
Trott was speaking at The Marketing Society's event at Advertising Week Europe in London on 22 March. He said: "All the ads are done for clients. The sole job of an agency is to keep a client happy. It's not to do work that consumers like and work that enriches their daily lives, work that actually gets into the language – it's just to keep a client happy."
"The mantra used to be 'a good ad is a sold ad'. Nowadays the consumers gets lip service but that's all it is... it isn't collaboration, it's obsequiousness."
The provocatively named "Uncomfortable conversation" event was hosted by Marketing Society chief executive Gemma Greaves. On the panel were chief marketers Zaid Al Qassab (BT), Lisa Gilbert (IBM), David Wheldon (RBS), and Lucien Boyer (Vivendi).
Wheldon, RBS's chief marketing officer, insisted that clients have to be "accountable" for what they do. He said: "I'm not interested in agencies that just want to keep us happy. Anything we can do to get great work is imperative... I'm held to account for every halfpenny I spend and that's important because it's your money, we're a state-owned bank."
However, there are "too many agencies in the room" whose only objective is "to get something sold" according to Al-Qassab, BT's chief brand and marketing officer.
Al-Qassab said: "I work really hard with our agencies to tell them in their performance review that I want agencies to challenge us, otherwise I may as well bring the business in-house."
BT has conducted major account reviews across media and direct marketing since completing its merger with mobile operator EE last year, but has not suggested it will review creative accounts held for BT by Abbott Mead Vickers BBDO, or for EE's ad agency Saatchi & Saatchi.
For Al-Qassab, his main complaint about the industry today is a misunderstanding of how digital should shape marketing and argued marketers should stop using the word "digital" altogether.
He said: "The fact you use the word 'digital' causes people to use the wrong metrics. What happens is those people go into the boardroom and start to look at the wrong things. They look at how much money is spent on digital, not what the message is.
"Worse still, those marketing people write a brief and the brief has the word 'digital' peppered in it ... now you get 300 digital social ideas even if most eyeballs are on TV. You get clients asking for something that will go viral and you put all the focus in the wrong way."