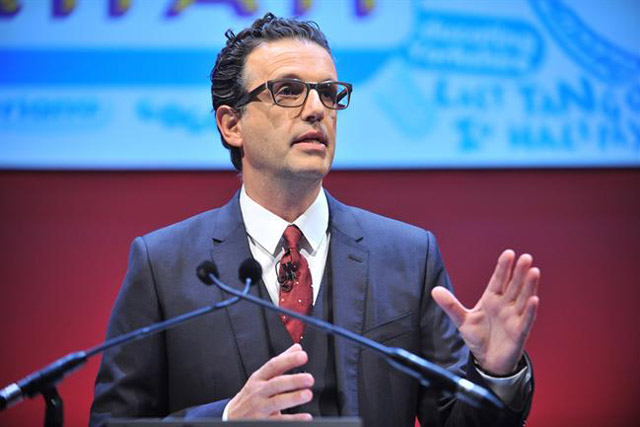 Giving the keynote lecture at the Edinburgh International Television Festival on Thursday evening, Abraham referred to the "parade of Americans" that has told the UK industry "how things ought to be done" in recent MacTaggart lectures.
Four of the last five executives to give the MacTaggart lecture have been American: Elisabeth and James Murdoch, the chairman of Shine and co-chief operating officer of 21st Century Fox respectively; the Google executive chairman, Eric Schmidt, and Kevin Spacey, the actor, director and producer.
Abraham said: "But, how do you explain the number of US entities queuing up to buy our producers and now, our broadcasters? Doesn't this suggest that, maybe, as with our gun laws and health system, it's us who are showing them how it ought to be done?"
Deals so far this year have included Liberty Global buying Virgin Media and All3Media, as well as a small stake in ITV, Viacom agreeing to buy Channel 5, and Sky merging with Sky Italia and Sky Deutschland.
MacTaggart lectures are known for their "bogeymen" and Abraham extended his beyond MacTaggart givers to include Malone, who he said was "understood to be the largest landowner in America" and "famously, hates to pay tax".
Abraham said the way the UK TV industry had "balanced public and private risk-taking" had "set free the creativity and talent that the Americans are now so keen to invest in".
Amid speculation about a merger between 21st Century Fox, Time Warner and Sky Europe, Abraham asked what responsibility and accountability the "new global gated communities" would have to the UK TV industry.
Abraham said: "TV is clearly now a combat vehicle for tech and mobile companies and platforms to compete with each other, rather than a sovereign industry in its own right."
Returning to a subject he has tackled before, Abraham said Sky should pay the public service broadcasters (PSBs) for their content. In the current arrangement the PSBs pay Sky to carry their channels.
Abraham said: "The UK is now one of very few major markets in the world where public service broadcasters receive no payment for the immense value their channels bring to pay platforms. Now is the time to correct this and we need new rules to do it."
In response to Abraham's comments, Graham McWilliam, the group director of corporate affairs at Sky, said: "Just four years after pledging to stand on its own two feet in the marketplace, Channel 4 is again calling for a subsidy to compensate for its declining performance.
"This proposal amounts to a discriminatory tax on millions of licence fee paying viewers to watch public service content that is supposed to be free.
"Channel 4 should not be allowed to walk away from the obligations of universally free access which come with the very significant benefits of public service status."