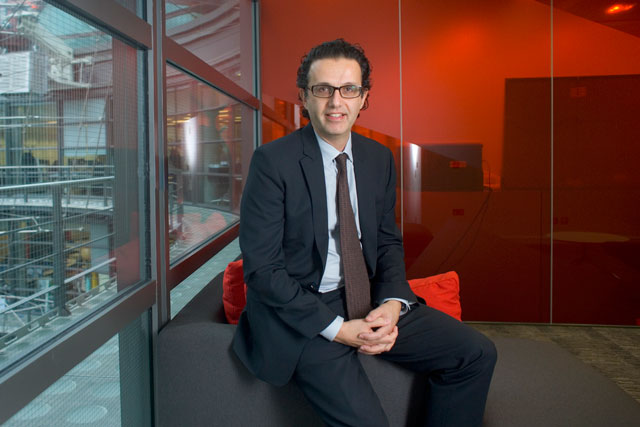 From the lobby of Channel 4's headquarters, its chief executive, David Abraham, points at the inflated big silver number "4" outside. "It breathes," he says with a smile.
The latest installation in front of the building is a fitting representation of what Channel 4's creative mission should be - since its inception, the broadcaster has strived to nurture new talent, be different and give a voice to outsiders.
Abraham describes himself as an outsider. Both his parents immigrated to England after the Second World War: his father came from a Jewish community in Calcutta, while his mother survived Nazi-occupied Belgium.
An adman turned TV executive, Abraham worked up through the ranks at CDP and Chiat\Day before co-founding St Luke's. He made the switch to TV in 2001, when he was approached "out of the blue" to run Discovery UK. Following stints running the women's lifestyle channel TLC in the US and then the BBC Worldwide joint venture UKTV, Abraham joined Channel 4 in May 2010.
Using the guile of an experienced suit, he is said to have lobbied those with a say in the appointment, in the same way he might have done when chasing an account.
Since Abraham's arrival, Channel 4 has come under intense scrutiny. The disappearance of the ratings bankers Big Brother and Friends worried media agencies.
Abraham's determination to bid for the UKTV ad sales contract is believed to have created tension between him and the former sales director Andy Barnes. Abraham stands by his decision: "Together, we have the biggest reach of all the sales houses because we have big terrestrial properties, very well-targeted digital properties and we're still way ahead at delivering to young people."
It also emerged that there were contractual issues between UKTV and Channel 4. Abraham points out the situation was unfairly leaked by "competitors who were pissed off Channel 4 had secured the contract and were trying to disrupt it". When asked about the rumour that the real problem was Channel 4 being forced to subsidise UKTV, Abraham says: "That's very, very naughty."
"The bottom line is it's a ten-year relationship," he explains carefully. "So, like in anything, such as winning an account, you spend money to do the pitch and build the team. We're in it for the long term."
And more change is on the cards. Last week, the new sales director, Jonathan Allan, announced a restructure of the sales team that is likely to lead to some high-profile departures.
While he will not be drawn on individuals, Abraham says Allan's "background and expertise" mean he is uniquely placed to understand client needs: "He is determined to implement changes that help ensure Channel 4 is at the forefront of offering innovative, industry-leading and client-focused solutions."
In this new world, one of Abraham's battlegrounds will be access to data. He has called for content producers to have access to the data their programming generates in a connected world. He declines to specify the information he wants (although he says it is currently "subject to conversations"), but he aims to "establish the principle" to protect the future funding of programming.
Abraham says the "house has not fallen down" post-Big Brother in the way some media agencies predicted. So far this year, Channel 4's family of channels has an 11.7 per cent share of viewing, up from 11.4 per cent in 2010, led by the digital channels. The core Channel 4 station has declined from 7 per cent to 6.9 per cent.
Although Abraham says he's not happy with the decline, he believes the problem has been exaggerated: "When I listen to a lot of bullshit, this is where my experience in America comes in. A channel that's over-reliant on one show will eventually have to deal with the reality of that."
Key to Abraham's strategy will be the former BBC One controller Jay Hunt, who joined Channel 4 at the beginning of 2011 as the chief creative officer. Abraham highlights the London 2012 Paralympic Games, comedy (such as Fresh Meat and Phoneshop) and drama (This Is England, Top Boy and Charlie Brooker's upcoming Black Mirror) as places where the Big Brother money is being spent.
Although some traders say Abraham should engage with them and media agencies more often, he has many fans. Tom Knox, the joint chief executive of DLKW Lowe, says he felt "constantly inadequate" working alongside Abraham when they were account directors at Chiat\Day.
"David was by far the best. He was responsible for the biggest clients and he was commercially streets ahead of everyone else," Knox points out. "He was born to have the job he has now. He has such a broad and eclectic range of interests and he has always been interested in the collision between commerce and showbiz."
Abraham still has a big task ahead of him. Channel 4 seemed to struggle for air in recent years, but he and his new team have started breathing life back in. Whether they can reinvigorate the broadcaster will depend on whether its 2012 programming slate is enough to engage audiences and, crucially, sedate the agency hounds.
The lowdown
Age: 48
Lives: Central London
Family: Two grown children
Favourite media: 4oD on the PS3
Favourite programme: Curb Your Enthusiasm
Favourite ad: Street Season on Channel 4
Interests outside work: People and places
Motto: Mission with mischief