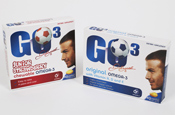 The Findus-owned range of Omega-3 supplements, which includes a Junior Strawberry children's variant, is manufactured using Omega-3 extracted from fish oil rather than cod-liver oil. It is aimed at busy families who find it difficult to eat the recommended two servings of fatty fish a week.
GO3 said Beckham's association with the brand would help motivate families to lead more active and healthy lifestyles. The football star will feature on packaging and in ads.
The supplement brand launched online last year as MEGA03, and formed part of Findus' strategy to diversify beyond its frozen-food range. After rebranding as GO3, it appointed direct and digital agency LIDA to create its global website. The brand's packaging and logo were designed by Smith & Milton.
Beckham, who moved from Real Madrid to US side LA Galaxy last year, has deals with Pepsi, Adidas, Motorola and Giorgio Armani. He also stars in a global TV ad for marker brand Sharpie, which is tied to a promotion challenging entrants to 'Think Beckham and be bold'.
The GO3 pitch is being handled by the AAR.