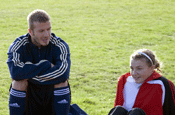 Stars including Kaka, Lionel Messi, Stephen Gerrard and David Beckham all feature in the 12-episode web series.
The ads show the football players being sent on missions to Andorra, San Marino and the Isles of Scilly to inspire local teams.
Richard Bullock, executive creative director at 180 Amsterdam said: "Adidas was simply incredible at turning our dreams into reality.
"They were able to conjure up Beckham, Mourinho and Messi in remote and difficult to get to locations."
The integrated campaign consists of TV, digital, mobile, print and retail, all pushing viewers to the internet series.
The media push covers Asia, Europe, Africa and the US and will extend throughout the summer to tie in with Euro 2008.