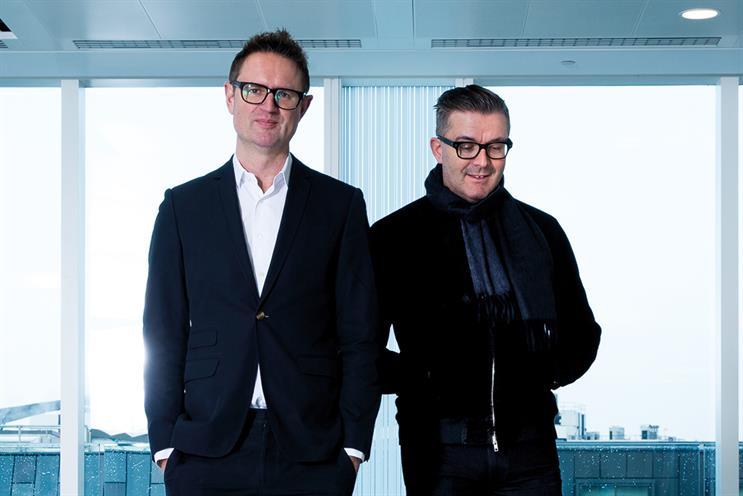 David Golding and James Murphy have resigned from Adam & Eve/DDB to launch a creative agency.
The pair, along with creative Ben Priest and communications planner Jon Forsyth, founded Adam & Eve in 2008 and sold it five years later to Omnicom for a final £110m payout.
They said the new company would have creativity at its core, working with brands across the customer journey but centred on the power of a brilliant creative idea. They are now looking for a creative partner or partners.
Murphy explained: "Everyone appears to be running away from being a creative business in our market and I think people need to run towards that, and now seems like a very good time to do it. There's been a collective loss of nerve. It's time for people to rally round what creative agencies can actually do."
The resignations come after the Adam & Eve founders completed their earn-out last year. Forsyth left in February 2017, Priest left the agency in the summer, while Golding and Murphy are now expected to leave in the spring, after completing their 12-month notice period. A further year-long non-compete restriction means the new agency is unlikely to open for business until early 2020.
Golding and Murphy believe they are leaving Adam & Eve/DDB "in great shape". A new management team was installed in 2016, with Mat Goff and Tammy Einav promoted to joint chief executives, Richard Brim stepping up to chief creative officer, Alex Hesz taking over as chief strategy officer and Anthony Falco becoming chief production officer.
Then, last month, a next-generation management line-up was identified beneath them. Meanwhile, Adam & Eve/DDB won Agency of the Year in Cannes in June – one of the most coveted awards on the global industry stage.
Golding said: "Adam & Eve is like my third and James' fourth child and it's going to be a wrench to leave. But our child is pretty grown up and can stand on its own two feet phenomenally well now and we don't want to be just tagging along."
It's understood that there have been discussions around whether Omnicom could back Murphy and Golding's new venture, but the pair are thought to have turned the offer down. They similarly rejected backing from Sir Martin Sorrell when they quit WPP to launch Adam & Eve. "The point is to not have the comfort blanket," Murphy said.
Murphy paid tribute to Omnicom, which has a reputation for being the holding company most attuned to the needs of entrepreneurs and entrepreneurial agency cultures. "Omnicom have been amazing partners," he said. "They've left us alone, they've supported us whenever we've needed it and they've delivered everything that they promised they would."
It was never a foregone conclusion that the founders would leave once the earn-out was complete, Murphy added: "When we did the sale, we had utterly open minds about what would come next after the earn-out."
Nevertheless, Golding said: "There's nothing Omnicom could have offered us that's the same level of excitement as starting our own company again."
Adam & Eve won its first Campaign Agency of the Year title in 2010 – in its third year after launch – and after merging with DDB it picked up four in a row between 2014 and 2017. The shop also claimed the Agency of the Year gong at Cannes in 2014.
Major clients include John Lewis, Waitrose, Halifax and Volkswagen, which it inherited from DDB London and successfully retained last month.
Adam & Eve won the John Lewis account in 2009 and its Christmas ads for the brand quickly became a national talking point. This year's effort starred Elton John.