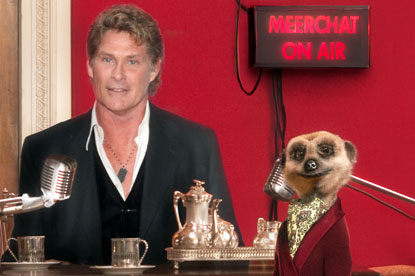 Listen to the full 'Meerchat' here

The 12-minute podcast, created by VCCP, features Aleksandr asking The Hoff a series of probing questions on a variety of subjects, including whether he is a member of "Titter" and "advice on how to deal with zee ladies".

Hasselhoff tells the meerkat: "You must remain aloof. You must remain single, because you are the ultimate meerkat of all time.

"You must say your career is more important than marriage and unfortunately you cannot share your love only one person."

According to an earlier announcement Aleksandr is also due to interview Piers Morgan, Simon Cowell and Vladimir Putin.
VCCP has also created a £20 doll of Aleksandr, which is due to go on sale in Harrods.

Listen to the full 'Meerchat' here