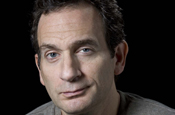 A multiple Cannes Grand Prix winner, Lubars is credited with turning BBDO New York into one of the world's most creatively potent agencies.

"David is a visionary whose boundless creativity is an inspiration to us all," Philip Thomas, the Cannes Lions chief executive, said.

"He is a regular fixture on stage at Cannes, where he has collected Lions for outstanding work across multiple categories over many years."

During a 27-year career, Lubars has collected a number of awards, including Clios and Effies as well as being honoured at The One Show. He also won the first Titanium Lion to be awarded at Cannes.

BBDO is currently the world's most-awarded network and has been Network of the Year at Cannes for the past two years.

Before joining BBDO, Lubars was the executive creative director of Fallon North America, where he oversaw famous work for Citibank and BMW.

He said: "I'm humbled to be chosen for this prestigious position. Film in all forms has taken on a new role and meaning in the industry while press, though the oldest medium, still shows itself to be one of the freshest."