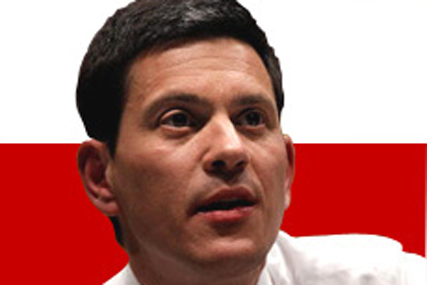 The launch yesterday was kicked off by Tom Harris, MP for Glasgow South, who was one of the first to declare his support and is one of the Labour Party's best known bloggers and users of Twitter.

Davidmiliband.net was unveiled along with Miliband's campaign slogan "Bringing Labour together, leading Labour to power".

The inspiration from Obama's campaign are clear, with the site being used as springboard to help his supporters organise and hold a conversation with him.

Miliband stressed at the launch that the site was about engaging in a dialogue with supporters. "It is designed to be a new way not just for me to stay in touch with you, but for you to have a proper conversation with me".
He said the site would be a place where people could connect and would play a role in rebuilding the party.

There is a section about how supporters can get involved in his campaign including organising local house meetings and donating both to his leadership bid and the party.

There is an area where supporters can put their ideas to Mililband and he has begun by asking what are the practical lessons that the party should learn from the general election campaign as it prepares to renew.

The site has links to Miliband's Flickr page, YouTube channel as well as Twitter and Facebook. The homepage also includes a mural of supporters' profile pages from the social network.

Miliband said that he planned to blog regularly on the site and has been using Twitter to connect with supporters around the country.

Asked if he was comfortable with using social media and Twitter in particular, Miliband said that, while he would not describe himself as "A Plus", he was quite comfortable with it, but that he had not quite got used to tweeting on the move or taking his Blackberry into the House of Commons.

Jessica Asato, Miliband's e-campaigns manager, said that when Miliband was out on the road his Twitter feed would be regularly updated by members of his team, who will post updates and photos, and stressed the importance of responding to people.

Asato also said that as the campaign progressed there would be regular blogger briefings, taking up an idea that the Labour Party new-media team began during the election.
His brother Ed Miliband also has a new site, Edmiliband.org, which includes social media links and blogs, but features less chance for supporters to get involved or post their comments.

Andy Burnham MP, the former health secretary, also has a leader bid website, but it is at this stage very basic and looks more like a landing page. His campaign is being headed up by Stuart Bruce, the managing director of PR firm Wolfstar.
Neither Ed Balls, the former Secretary of State for Children, Schools and Families, or Diane Abbott have yet set up a campaign websites while leftwinger John McDonnell has a very basic site.