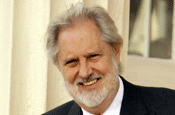 In April, the Internet Advertising Bureau predicted that spend on internet advertising would catch that of TV by the end of 2009.

But speaking to Campaign in Cannes, Puttnam said that the shift would happen more quickly.

Puttnam, who is also the chairman of Profero and on the board at Channel 4, said: "It's not about years any more, it's about looking at the month-on-month figures.

"These will show internet crossing the tipping point by September, or November at the latest."

The IAB report showed that internet spend in Britain increased by 38 per cent to £2.8 billion between 2006 and 2007.