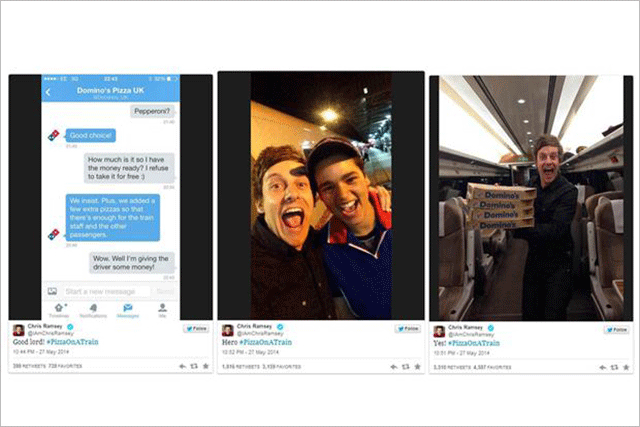 David Schneider, actor, comedian, writer, director and founder of social-media agency That Lot, says: "I guess that, like in Eurovision, you can't vote for yourself, so I'll ignore @StellaArtois' witty Wimbledon live-tweeting as Rufus The Hawk and go for Domino's.
"When comedian Chris Ramsey tweeted from a train that he fancied pizza, Domino's sent a pizza-laden delivery person to a stop further down the line.
"It was great for the brand, for Ramsey and for all of us watching. #pizzaonatrain trended worldwide, proof that social-media marketing is at its best when you're light on your feet. Or your scooter."
Summary: When a social-media opportunity presented itself, Domino's in-house PR team delivered. Touring comedian Chris Ramsey caused a Twitter storm when he challenged the pizza company to send him a delivery while on a moving train
When it pulled into Doncaster station, a driver from a local branch was ready to hand over pizzas for Ramsey and some fellow passengers.
The tweets were favourited more than 8000 times and #pizzaonatrain trended with 11,973 tweets.
Read next