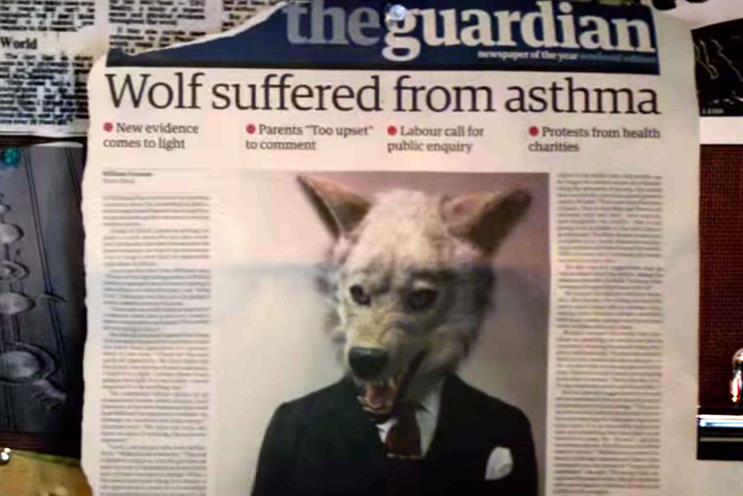 Karbassioun, who is joining Vice Media's global content studio Pulse Films at the end of the year, led BBH's production over the past six years and has a long-standing partnership with his mentor at the agency, executive creative director Nick Gill.
Rattling Stick director Ringan Ledwidge has also collaborated with Karbassioun on several occasions.
Known to colleagues as "Dav", Karbassioun is credited for building one of the most respected integrated production departments in the industry and has worked with brands including The Guardian, Axe, Audi, Virgin Media, Waitrose, Johnnie Walker and Barnardos.
Awards won include a Grand Prix at Cannes, the Clios and One Show for three different clients and in the UK led BBH to agency of the year for three out of four years at the British Arrows.
He said: "I've spent 14 years at BBH learning from the best. Leaving the black sheep family is the toughest decision I've ever had to make, especially being party to the fresh momentum building there.
"The opportunity of partnering with Thomas and Marisa at Pulse is hugely exciting for me at a time of so much change in the film production industry.
"They have built a unique next-generation production company with a strong foothold in both entertainment and commercials, offering a wide spectrum of creative opportunity for their talent. Even in a more senior role at BBH, I've always been close to the work, so collaborating top directors is something I'm looking forward to."
Dav's Top Five
Levis "Dangerous Liaisons" (Dir: Ringan Ledwidge), 2007
This, arguably the last really great Levis commercial, won gold in Cannes in 2007 and sees the now Hollywood superstar and Bond Girl Lea Seydoux and French actor Raphael Personaz tearing each others clothes off through Levis iconic History from 1980 to 2007 in one beautifully crafted in-camera sequence.
Barnardos "Life Story" (Dir: Ringan Ledwidge), 2011
I produced a number of BBH's famous Barnardo's "Believe in Children" commercials with Nick Gill, this being the favourite.
We see Michael aged 28 tell a Barnardo's project worker his life story. It's a carefully choreographed single take where we see Michael go from 28 when "things are looking good…" to a terrified five-year-old in one single hand-held camera shot, using only hidden cuts, no special effects.
Audi "Birth" (Dir: Andrew Proctor) 2014
In this artistic film we see and Audi R8 supercar literally giving birth to the new Audi RS3, the baby of the Audi Sport range which shares the mothers supercar's technology.
The photo-real film is created in CGI by The Mill, winning multiple awards for excellence in craft.
Virgin media "9.58" (Dir: Seb Edwards), 2016
To celebrate Usain Bolt's last ever Olympics, Virgin Media made one of this year's favourite films; a 100-second film made up of ten separate 9.58sec mini-films.
Each film gives a fresh perspective on what it takes and what it feels like to be the fastest man of all time.