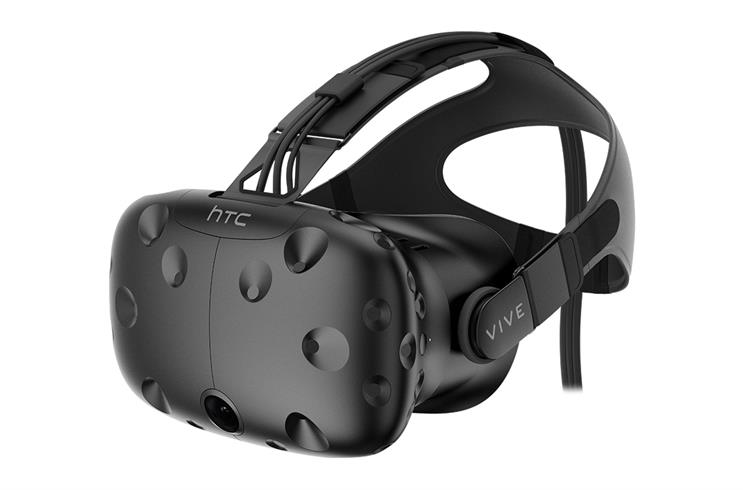 Virtual reality
Virtual reality's been around in one form or another since the 1960s – but it's only now that technology has caught up with the concept. Virtual reality headsets have finally found their way onto the consumer market, with HTC's Vive and the Facebook-backed Oculus Rift both hitting shelves this year.
This technology is still aimed firmly at early adopters, though – in addition to the £500-plus VR headsets, you'll also need a powerful computer to provide the graphical grunt. That makes the high-end virtual reality kit a niche proposition for the near future – though advertisers are scrambling to get on board. VR developer Lucid Sight has already raised $3.5m in funding to launch a VR advertising platform, and has experimented with placing 360-degree video ads in its VR games.
Start-up company Immersv is another entrant into the VR advertising space – with plans to bring mobile advertising techniques to virtual reality. Unlike mobile ads, though, VR ads can track where the user's looking – and reward or respond to users that take the time to examine them. Immersv co-founder Mihir Shah claims completion rates of 80 per cent – double that of regular mobile ads.
Other brands are experimenting with virtual reality experiences; McDonald's and HBO are just two of the companies that have created their own branded VR spaces to promote their products.
But virtual reality isn't just for high-end gamers. The likes of Google Cardboard and Samsung Gear VR use smartphones and inexpensive headsets to provide a stripped-back VR experience. And Google has announced that its successor to Cardboard, Android Daydream, will provide a more advanced, standardised platform for virtual reality across both smartphones and dedicated consumer headsets.
The challenge for advertisers is how to balance these two very different audiences. The casual VR user, with a smartphone or low-end VR headset, is a very different proposition to the "power user" who's spent north of £1500 on their virtual reality rig. It's a puzzle that several digital players – Google and Facebook among them – will be racing to solve in the coming months.
Mixed reality
Virtual reality is a powerful technology, but it's not without its limitations – chief among them that it shuts the user off from the world as soon as they put their headset on.
Mixed reality aims to fix that – combining the immersive qualities of virtual reality with augmented reality – overlaying virtual objects on the real world. As with virtual reality, big tech players such as Microsoft and Google are scrambling to get in on the action; the former with its own headset, HoloLens, while Google has backed mysterious start-up Magic Leap.
Microsoft HoloLens is an augmented reality headset that's able to place 3D objects in the viewer's eyeline, mapping them onto the space around them. In simple terms, a Skype video call could be mapped onto a wall, for example, or a game of Minecraft could be played on a table in front of the viewer – who can walk around and view it from different angles.
For advertisers, the appeal is obvious – and Microsoft is well aware of HoloLens' appeal, having shown the device off to adland at last year's Cannes festival.
It's already partnered with Lowe's stores in the US to create virtual kitchens where customers try out different design options in context – enabling stores to save on floor space.
The more mysterious entrant into the mixed reality space is Magic Leap, which has raised over $1.4 billion from the likes of Google in three separate rounds of funding, and is valued at around $4.5 billion. This is despite that the technology powering Magic Leap has yet demoed to the public or developers – though a number of tech journalists have seen it, and they've left suitably impressed.
Magic Leap's technology is based on a transparent "photonic light-field chip" – and it reportedly one-ups HoloLens actually placing virtual objects within real space – complete with reflections and shadows that help to sell the illusion. Despite the technological differences, for advertisers the two technologies are similar, combining the real world with overlaid or embedded digital imagery.

The augmented reality landscape has moved on since the days of Google Glass – adding depth and realism to create an ever more immersive experience for users. It's important, though, to consider mixed reality not just as a new technology in which brands can create experiences and ads, but to explore its impact on existing channels.

In the long term, the likes of Magic Leap could even integrate with, or replace, traditional advertising channels such as TV – why spend thousands on a massive flatscreen set, when you can don a pair of mixed reality specs and place a virtual set in your living room as and when you choose? And why limit the advertising space to the screen when it can be integrated seamlessly into the world around the viewer?
About The Trade Desk, Inc.
The Trade Desk is a technology company that empowers buyers of advertising. The Trade Desk provides a self-service platform that enables ad buyers to manage data-driven digital advertising campaigns using their own teams across various advertising formats, including display, video, and social, and on a multitude of devices, including computers, mobile devices, and connected TV.
Headquartered in Ventura, Calif., The Trade Desk has offices across the United States, Europe, and Asia.