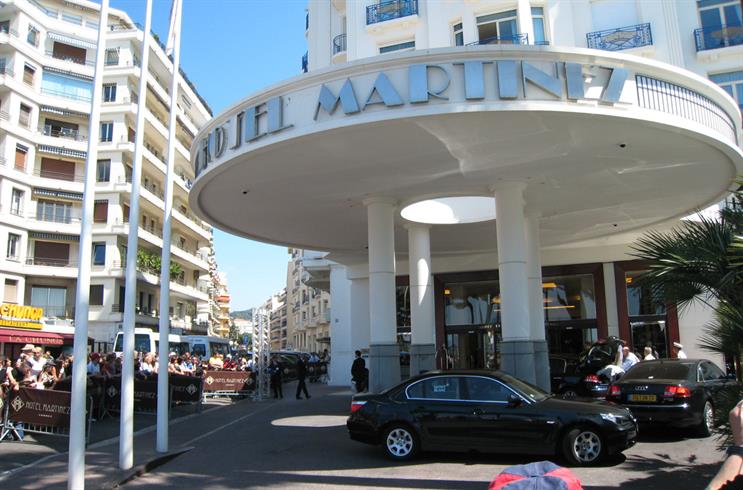 Cannes is like a ticking time bomb – and it's almost upon us. If you've never been, these are the places to see and be seen as adland descends upon the Riviera.
The Carlton Hotel
The Carlton sits regally on the Croisette and is hard to miss. This place has a 100-year pedigree, oozing French style and opulence. The terrace is a gorgeous place to sit and sip rosé with some of the industry's finest. You need to be smartly dressed to be taken seriously here – no flip-flops or vests allowed and certainly no bare chests. Like many other hotels, it has its own private section of beach. It is on this beach that our very own Campaign at Cannes party takes place every year. Always over-subscribed with adland's crème-de-la-crème, it really is a case of 'if your name's not on the list, then you're not coming in". If you are lucky enough to be invited, RSVP ASAP.
58 Promenade de la Croisette, 06400 Cannes
Hotel Martinez
If you like your architecture, you'll love Hotel Martinez. It is an Art Deco icon and a firm favourite with many of the 'hip' creatives that flock to Cannes. You never know, you might find your perfect creative partner in crime there. Aside from its clientele, the Martinez has a good mix of outdoor and indoor bars as well as some decent cocktails.
73 Boulevard de la Croisette, 06400 Cannes
Hôtel Barrière Le Majestic
This belle époque palatial hotel along La Croisette fuses classic elegance with modern refinements. It has three Venetian-style lounges, five restaurants, two bars and a swimming pool. It's also hijacked part of the main beach, so if you're lucky enough to wangle it, you can chill without being hassled.
10 boulevard de la Croisette, 06400 Cannes
Havas Café
The Havas Café is situated in the gardens of Le Grand Hôtel on the main drag. It offers a wide range of interesting speakers throughout the week – and coffee. Decent coffee. Which you will need. Trust us on this. Aside from a caffeine hit, it's a great spot to catch up with people, take the weight off your knackered feet and chill. It also plays host to the odd early evening party –a good way of warming up for the long night ahead.
The Cannes Connect Bar
The Cannes Connect bar is situated on the roof of the main festival building. It's not a bad place to go and start your evening after a long day of talks. You might even bump into a few useful people up there. And the view is to die for. Indeed, it's worth popping up just to look out over the waterfront.
Palais des Festivals et des Congrès, 06400 Cannes
The Gutter Bar
There really is only one place to end this list of places to see and be seen. The Gutter Bar is a Cannes Lions institution – despite protestations, you will end up here at some point during the festival. It's really called 72 La Croisette – a big neon 72 sign will mean you have arrived. It's tiny – so everyone ends up, well, in the gutter. There is no snobbery – top industry bods and newbies rub shoulders here and everyone regrets going the next morning. Go – you can't really say you've 'done' Cannes unless you do.
71 Boulevard de la Croisette, 06400 Cannes
So there you have it – we started our tour with elegance and class and finished up in the Gutter. Have fun, keep your wits and your alka seltzer about you.
Photo by tangi bertin licensed under CC BY-SA 2.0