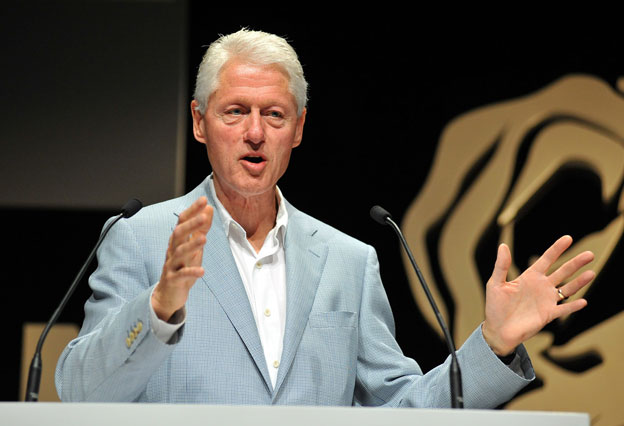 In recent years, advertising has changed enormously with the rise of digital; mobile advertising, branded content and artificial intelligence are just some of the innovations that advertisers have had to adapt to. And at the heart of it all has been the Cannes Lions Festival, reflecting those changes – and responding to them.
We've examined four of the big shifts in advertising that have taken place over the last four years – and how they've manifested themselves at the Cannes International Festival of Creativity.
2012 – Effectiveness
Effectiveness in advertising began to resonate with brands and ad agencies alike in an industry still feeling the impact of a tough economy. Consumers had become savvier and wanted more from brands.
Coca-Cola's chief marketing officer at the time, Joseph Tripoli, said that it was changing its communication with its customers by no longer shoving products at them but having conversations instead.
Bill Clinton also reminded adland that doing good isn't such a bad thing, when he argued that "what citizens need more than anything else is honest synthesized intelligence," and that "We need people like you to fire our imagination and fill our brains as well as our hearts."
2013 – Mobile and Social
With the rise of mobile beginning totake hold, the festival highlighted security issues around data. Sorrell pointed out that allowing consumers to opt-in would mean that they will want to know how their data is being used, so the industry needs to make sure it can get the message across.
The year was also a hotbed for social media, and Facebook's vice president for global marketing solutions Carolyn Everson, said that brands are very important to the network: "Not only to the business side, of course that's where the revenue comes from, but we also deeply believe that brands offer a tremendous amount of value to consumers."
Bob Geldof also took to the podiums to warn the industry about the perils of the digital revolution. The music legend was referring to the harmful effects of piracy when he said Apple had "destroyed my business overnight" with the launch of iTunes.
2014 – Content
In a year when traditional categories including print, film and radio dropped by 12 per cent, 9 per cent and 7 per cent respectively, attention turned to cyber – which rose 39 per cent. The category includes branded online, digital and tech communication.
The rise in content had Sir Martin Sorrell issuing a warning to traditional agencies, calling them "anachronisms". CHI & Partners chief executive Nick Howarth said he expected traditional creative director roles to become editor-in-chief positions.
Elsewhere, Mainardo de Nardis, global chief executive at OMD Worldwide, pointed to storytelling as a new way of targeting people instead of traditional 30-second spots.
2015 – Data and AI
A category for creative data was introduced for the first time in 2015 – the same year that saw R/GA New York win the Agency of the Year accolade, a first for a digital shop. "Data is the new medium, a new medium to creative mesmerizing stories," said Koichi Yamamoto, global planning director for Dentsu Aegis – pointing out that in the previous year, more than 700 gigabytes of data were created for each of the world's 7 billion people.
Marshalling that data will be the task of artificial intelligence – with Internet creator Tim Berners-Lee noting that as technology improves, algorithms will be used by companies to make major decisions such as investment opportunities. He also hailed the "vast creative potential" of virtual personal assistants, noting that they will lead to a "radical reorganisation of marketing".