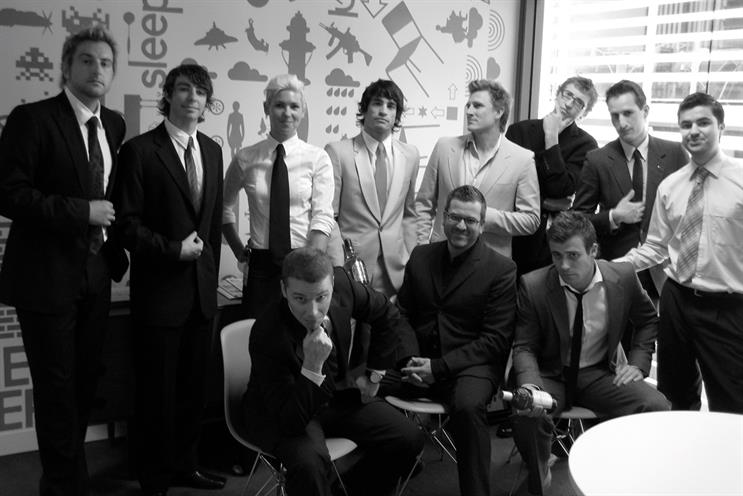 MATT EASTWOOD
WORLDWIDE CHIEF CREATIVE OFFICER
J WALTER THOMPSON
BASED IN NEW YORK
Having spent Sunday and Monday in Atlanta for a client meeting, I'm back home and heading into the office. I'm not travelling this week, which is rare for me. In my past year at J Walter Thompson, I've travelled to Hong Kong, Milan, Cannes, New Zealand, Berlin, Dubai, Mumbai, São Paulo, Paris, Sydney, Singapore, Doha, Shanghai and Melbourne… but, this week, my roots are firmly planted in our New York headquarters.

7.00AM After two snoozes, I wake up and have a few snuggles with my favourite girl, my Cavalier King Charles Spaniel, Lola, before I'm up to get ready. My husband, Adrian, does all of the feeding and walking but, much to his dismay, Lola prefers to snuggle with me.

7.30AM Once I'm up, it takes me 20 minutes to get out the door. It might be the unfussy Australian in me but I don't relish much in the morning's get-ready routine. My half of the closet, separated from Adrian's by a piece of the Berlin Wall gifted to me earlier this year, is filled with my standard uniform: black shirts, black pants and a few pairs of my favourite black Ferragamos. I like to reserve any decision-making for the office. I hop in a yellow cab and run through my first round of e-mails, deleting junk and flagging or tackling high-priority items first.

8.00AM I take my first hit of caffeine with a grande wet cappuccino from Starbucks. I take this time to catch up on news with BriefMe, a really neat app that ranks news stories and sends users the three most-read articles each day. I check in on industry news and JWT news, look at work and push out a Tweet or two.
I'm also quite faithful to my to-do list, so I take this time to add to it and check things off. I use my Neo Smartpen to write and take notes.

9.30AM It's time for my first meeting – a call with one of the creative directors in London. I try to keep all meetings to 30 minutes or an hour. My buzzing Apple Watch and fantastic assistant, Ian, help keep me on track.

10.00AM For the Ad Stars festival in South Korea, I select my favourite 50 pieces of print and film work that I've worked on throughout my career. A nice stroll down memory lane.

10.30AM Round two of caffeine. This time, a much more modest tall wet cappuccino.

11.00AM I chat with one of our New York executive creative directors about a client brief.

11.30AM Lew Trencher, our chief financial officer, stops me to give me a hard time about wearing my typical black wardrobe: "Are you wearing the same thing again?" No, Lew, I'm not. When I was 29 and had just started my first job as a creative director in Australia, I looked very young, so I decided to go to work every day wearing a suit and tie to age myself a bit. That look eventually caught on in the office. Not sure if my all-black attire ever will.

11.30AM A meeting with two of our creative heads in New York and our chief growth officer, Lyle Tick, to prep for next week's client presentation.

12.30PM Lunch is the same for me every day if I'm not going to a client or team meeting: a chicken and avocado sandwich from Pret A Manger. I'm happy to be a little more adventurous with my food when I'm travelling, but the array of food choices in Midtown is a bit overwhelming. Again, I would rather save any decision-making for the office.

1.00PM Log online for round one of Ad Stars judging.

2.00PM Put together my end of next week's client presentation. I'll pass this on to Lyle, who will slot it into the appropriate place in the final presentation. We'll do a group rehearsal next week.

3.00PM A cup of Lipton black tea in my favourite mug from Crate & Barrel. Yes, it is my third cup of caffeine and, no, I will not apologise for it. I'm actually quite fond of this mug – I have three of the same one.

3.30PM Meeting with our director of global communications, Jocelyn Weiss-Malas, about upcoming speaking engagements. I'm set to speak this year at Ad Stars, Spikes Asia and the LIAs. Good thing I don't have stage fright.

4.00PM Skype call with a candidate.

5.00PM Brainstorming for Spikes speech. Unfortunately, I don't uphold the vision many have of creatives blaring Jimi Hendrix or Bob Marley when they're ideating. A quiet, cold and uncluttered space is where my best ideas are born. The only sound one can hear in my office is the tick-tock of my wall clock, which is admittedly a bit irritating to some but I actually find it quite soothing.

6.30PM Dinner at the Top of the Standard with Adrian and a friend who is moving to Australia.

8.00PM Monthly Skype session with Mayan, our Asia-Pacific Creative Council chairman, for account updates. I spend my first hour home unplugged to decompress. I don't tend to watch much TV but, when I'm travelling, I do catch up on two of my faves: Empire and Orange Is The New Black. But, tonight, I read a bit of Team Of Teams by General Stanley McChrystal and check e-mails again before heading to bed. It has been a hectic and productive day like most, but never a boring one.

DYLAN WILLIAMS
GLOBAL CHIEF STRATEGY AND INNOVATION OFFICER
PUBLICIS WORLDWIDE
BASED IN LONDON
My ambition for the day is, as ever, to break a law. Otherwise, I'm not doing anything significant.

3.06AM The mid-sleep awakening. I have a bimodal sleep pattern, apparently. Irrespective of the time zone I find myself in, I always wake at 3.06. Numerologists have had a field day with this.

3.07AM "Planners don't run." As a junior, I once bounded past John Bartle on the Bartle Bogle Hegarty stairwell. He stopped my ascent with four profound words: "Planners don't run, Dylan." I've lived by this brutal maxim ever since. But, in today's always-on environment, the urge to run has never tugged so powerfully. I drift back to sleep challenging the wisdom of my old mentor.

7.30AM A Sonny and Bleu breakfast. Minecraft the boy. Beatbox the girl. Kiss the wife. Start the car.

9.00AM Australian drugs and Asian beer. To merely visit all 233 network offices would take four years. So the change leadership plan of our chief executive, Arthur Sadoun, instead draws on lean principles: 1. Rapidly prototype in the UK and the US; 2. Empower regional management teams to refine and scale early successes. The morning catch-ups with Asia-Pacific corroborate this approach. Within seven months of launching our first start-up incubator, Drugstore London, a second in Sydney is now open. I follow this with a heads-up to my lead strategist in Asia. Our global Heineken win brings bold ambitions and familiar faces to his region. He's happy.

11.00AM Play on Facebook. Sitting on Facebook's Creative Council has its perks. Like a cross-discipline "love-in" to ensure we better-utilise the platform. It's a fantastic session. Everybody spends the three hours on their mobiles.

2.00PM A swipe-right lunch date. A great first date talking "Tinder for deal flow" with the founder of Tendr.

3.30AM Prince Wen Hui's Cook, Romário and the rope-a-dope. Four meetings that all play to a familiar pantomime. An initial energy burst as everyone bids to control the dialogue. Followed by a rapid tail-off as the need for an idea emerges. I'm learning to resist the early melee. Instead, like the third-century chef in the Taoist fable, or the Brazilian goal-poacher Romário, or Ali against Foreman, I try to practise "the act of inaction". To consciously do nothing until spaces appear where real impact can be made. This kind of intervention will become the new language of strategy. Being mindful of the moment and acting appropriately in the instant will replace sequential planning and execution as the gap between marketing and commerce blurs to a singular point.

7.30PM Healthy clouds. A final flourish as I discuss plans for two forthcoming "meet the makers" events: one focused on connected car innovation alongside CloudMade and one on health tech featuring start-ups from surgical augmented reality to pelvic-floor trainers.
9.00PM A chance to dance. As I arrive home, I reflect again on JB's early guidance. He was right. But in a way I'd never really appreciated. The more one runs to the next thing, the more one is absent to the moment at hand. The more one thinks of tomorrow, the more one misses today. As technology converges, we humans dash ever-more madly from pillar to post. The modern strategist must respond by replacing mindless sprinting with the mindful movement of the dancer. For, in dance, as Martha Graham once observed, "all that is important is this one moment in the movement. Make the moment vital and worth living. Do not let it slip away unnoticed and unused." Anyway, I didn't break any laws today. Apart from some dodgy driving. But tomorrow is Thursday. Which usually sees a peak in disobedience.

DANIEL BONNER
CHIEF CREATIVE OFFICER
RAZORFISH
BASED IN LONDON
Whoever said "progress never sleeps" may have suffered from insomnia, or perhaps they pioneered something truly global that changed the lives of millions – or maybe they continued their relentless pursuit for an answer for decades until their mission was complete. Whoever it was, I'm pretty certain they were not on board my delayed Airbus A330 from JFK to LAX. But, given the turbulent jet-stream headwind that the pilot has been wrestling with for the past five hours, they could well have been. My progress today involved no sleep – and so my day begins unusually early…

12.17AM Arrive on a delayed flight at LAX from JFK.

1.00AM Zzzzzzzzzzzzzz.

5.00AM "Do. Do. Do. Do. Do-do-do." (I must change that alarm ringtone.) No lie-in for progress this morning either, which is a good thing because today begins with a road trip. From Los Angeles, I'm rolling out past the Malibu hills en route to our San Luis Obispo office, where our state-of-the-art production studio, video-motion graphics and soundstage live.

5.30AM Before I hit the road, I call our new international executive creative director, Nick Turner. It's 9.30pm in the UK, but he's one of the hardest-working night owls I know. He updates me on some key talent initiatives.

9.00AM Arrive in San Luis Obispo. The investment made in this facility is crucial to our ability to deliver world-class content across any number of formats and channels. This is my first flying visit. I meet the team, take a tour, say hello to a client and leave impressed.

10.00AM Travelling back to the LA office, I turn my phone into a Wi-Fi hotspot and crank through e-mail. Focus on feedback to the Hong Kong team (while they sleep) for a pitch in the Middle East.

10.50AM Still on the road – which is apt, as I take the time to share key automotive experiences and opportunities with a sister Publicis Groupe agency based in London.

1.00PM Arriving at the LA office, I meet with our West Coast executive creative director for an update on a number of client engagements. Today's two-hour face-to-face was worth the trip alone. We discuss a pioneering experience and intellectual property platform. Genuine goosebumps.

3.00PM It is important, as the chief creative officer, that I drive our philosophy and approach internally, so I allocate time to lead the creative direction for Razorfish's 2015 Brand New Thinking Awards. This internal initiative is now in its third year. As an innovation business, it is crucial to motivate and celebrate the most pioneering work across our global network.

4.00PM While travelling, I'm always keen to address the entire team and, today, I get the chance as the guest speaker at our "first Thursday" all-company inspiration session. The theme is "winning".
5.00PM Dinner and drinks with a new client.

7.00PM Head to LAX. From JFK to SLO to LA to Hong Kong. Met the team. Reviewed the work. Shared experience. Inspired change. Led the client. I'll take progress over sleeping any day of the week.

EVAN WEISSBROT
GLOBAL EXECUTIVE DIRECTOR OF ENGAGEMENT
TBWA
BASED IN NEW YORK

It's Tuesday, and I'm doing my best to maintain the high level of work coming from our team's global central hub while accelerating the adoption of a new work flow across key regional "spokes". My (much-needed) daily catharsis comes in the form of recreational bodybuilding – hence my structured meal schedule. A solid morning lift will keep my stress down and food will keep me focused. Let's go.

5.00AM Wake up and eat first meal. Check e-mails – about 100 new messages from Japan, the Middle East and Australia. I flag the important ones to think about while at the gym.

5.30AM-6.30AM Gym. This is normally my personal time but, today, I take a call with our technology partners at Adobe for the roll-out of Adobe Social across key global markets. Eat second meal.

7.30AM I take a call with our team partners in Japan. It's the end of their day and the beginning of ours. I need to know what's on their minds so the US team can think about ways to help solve their problems.

9.30AM Eat third meal. My team and I chat about anything interesting we've seen overnight that could lead to potential content opportunities today. Everyone is pretty geeked about Shark Week.

11.00AM Time for a live demo. An agency client partner has heard about our way of working and wants a quick tour of the space. I walk them through the tools, technology, people and process that make us unique. This marks more than 100 tours of this kind. I eat my fourth meal.

12.30PM The team has been ideating all morning. They land on something brilliant around Shark Week and we begin creative development.

1.00PM I work on a quick-hitting deck for Russia that details the different ways in which our global team feeds insights into the agency and across client business units. They have a pitch coming up and I want them to be armed with the latest.

2.30PM Video conference with the Russia office to walk them through everything in the deck. All clear, but they have more requests – so I'll have to package up some more cases.

3.30PM I work with the community manager to develop targeting and media-promotion strategy for the Shark Week content. We optimise media promo timing to align with trending topics. Eat fifth meal.

4.30PM We run into an issue: media promo paused out of Japan. The community manager and I think about ways to get promoted results without media dollars. We decide to rally our organic influencers (we think of them as friends of the family with lots of followers).

4.45PM Take a call with the Brazil team to talk through Olympic partnership activation.

5.30PM Shark Week starts trending globally: it's go time! The asset is posted and we start monitoring engagement trajectory. The community manager reaches out to the influencers, who rally and begin sharing the content. The result is huge. It becomes the most-engaged-with and most-seen organic post to date in one hour.

6.30PM Conversational data says people want posters of the asset, and we need a way to thank the influencers. Posters it is. Team begins printing poster versions of the Shark Week Tweet. We get the addresses and will send in the morning. Eat sixth meal.

8.00PM Global status call with Japan. Looks like we'll need to do some training in India and China.

9.00PM Call to discuss how we adapt a model that has been working globally for the China market.

10.00PM I eat the last meal and shift focus to e-mail, where I tackle some things I couldn't address during the day.