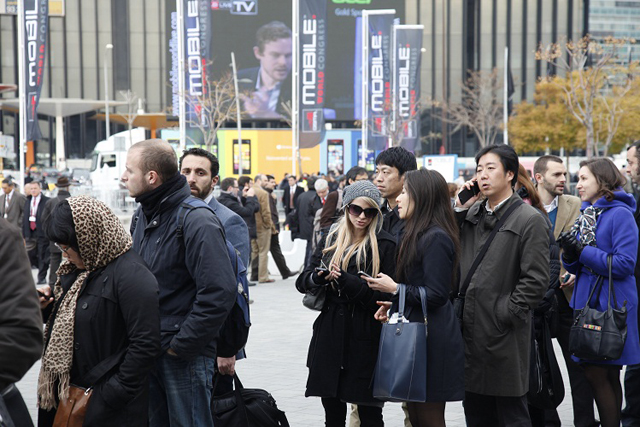 Registration and fast-track entry are now both NFC-enabled and navigating around the Fira Gran Via, there's a huge NFC-ready poster that I can tap to find out what's happening in each of the exhibition halls. Many can relate to the fear of generally looking the part in among some of the most cutting-edge devices from across the globe, and I feel at a distinct disadvantage.
There's still lots of NFC buzz around payments – with some good examples (as well as the vending machine ones from last year), but I'm still convinced it's a behavioural thing (as much as CHIP and PIN was) rather than a lack of phones having it built in.
Autos
Cars are very much in focus this year. Within three hours of walking between halls three and six, I spotted Ford, Chrysler, Volvo, Intel and Qualcomm, all with "connected cars" parked up on their stands.
Ford was allowing people to demo its SYNC technology by connecting a personal smartphone, while excitedly talking about the launch of their app developer's programme. Qualcomm, whose chips and tech power some of the best mobile devices on the market, was demonstrating everything from 4G video streamed into the back headrests of cars, to real-time Google Maps sat nav with up-to-the-minute traffic updates.
Connected living room
I managed to play with Samsung's Second Screen Ads tech too, after hearing about it last year. The TV ad plays on your Samsung TV, a call to action appears at the bottom telling you to "shake your Samsung mobile" for more content. You do so and a branded splash page appears on your device (by recognising the ad's audio) – they used Knorr and Ford to show it off.
The battle of the living room, as we've expected, isn't limited to the Apples, Microsofts and Googles of this world – but also the hardware manufacturers. If my whole "eco-system" matches (ie all Samsung or Apple or whatever), then my experience with all these devices joined up is incredible. Samsung clearly want you buying TVs as well as mobile and tablets – and if the experience I get as a result is that much better, then why wouldn't I.
Phones, phablets & tabtops
Chinese manufacturer Huawei boasted that its Ascend Mate (right) was "the world's largest screen smartphone", and, after measuring it against my Lumia 800 (where it was a good four fingers taller), I don't doubt it for a second.
As I moved from China to South Korea and over to Samsung, I was left scratching my head at how the Ascend Mate was by definition "a smartphone" – but that the Galaxy Note (complete with stylus) was more likely a "tablet". And to complicate matters further, "laptops" with touchable, swipeable screens, some of which needed a keyboard and some that didn't.
The case for responsive design and building websites (like The Guardian's) that adapt what's shown on screen according to screen size, has never been more clear.
Mobile essentials
Two things mobile devices aren't especially useful without: battery life and connectivity.
Mobile World Congress has joyfully flung the free WIFI far and wide this year, no doubt delighting its thousands of iPad and Galaxy S III-laden visitors, who (me included), would have faced some rather prickly data roaming charges upon arriving home last February.
The first day of congress is without doubt the most strenuous workout my mobile has had to date – constant email checking, photo snapping, app opening, phone calling, note taking and video streaming. With all the wonders that 4G, NFC and augmented reality brings, having enough battery to see me through these tasks is fundamental.
Just like the WIFI, MWC organises were one step ahead in providing lockable charging drawers with an array of chargers inside each compartment. Plug your phone in, go away for an hour and come back to a juiced-up battery ready to be put through its paces again.
These things should absolutely exist in shopping malls, high streets and even workplaces up and down the country.
James Chandler is head of mobile at Mindshare UK - @jameschand1er