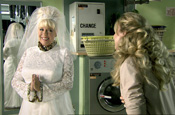 The soap opera-style ad will feature Sue Jenkins (who played Jackie Corkhill in Brookside), Julie Goodyear (Bet Lynch in Coronation Street) and Dean Gaffney (Robbie Jackson in Eastenders). It carries the strapline, 'The soap you can believe in.'
In the ad, Goodyear stars as a character preparing for her fourth wedding. She takes her wedding dress to the launderette, where Jenkins appears as a worker, but the hot water has run out. By using Daz Liquitabs they are able to get the wedding dress clean, but the ad ends as Gaffney rushes in reveal a surprise cliff-hanger.
Daz first introduced the 'grubby affair' theme to its ads in 2003, following on from the 'doorstep challenge' series which propelled Shane Ritchie, Danny Baker and Michael Barrymore to fame. The brand sponsored ITV1 soap opera 'Emmerdale' from 1999 until 2005.