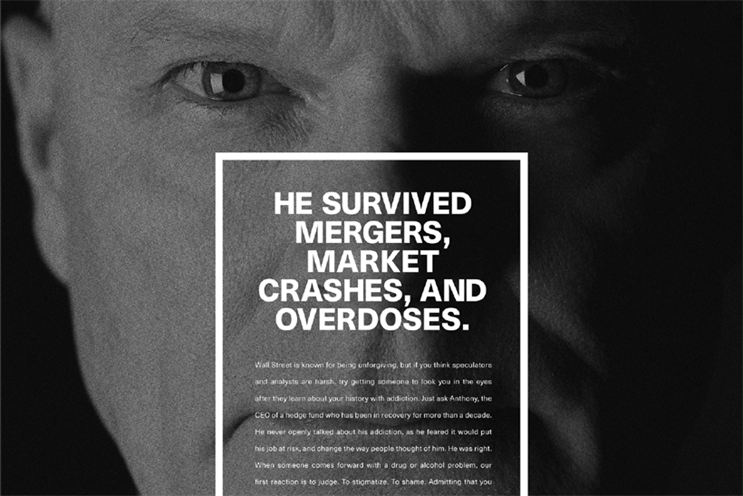 The day before his son's 21st birthday, Jim Hood, a former CMO of Lehman Brothers and Credit Suisse First Boston, was preparing a coffin instead of a cake. It was sudden — Hood's son Austin had passed away from complications arising from his five-year-long addiction to drugs and alcohol.
Frustrated by a lack of resources and support during his son's struggle, Hood last year founded a nonprofit, Facing Addiction, that aims to help others in his position. This year, Hood and co-founder Greg Williams have partnered with DDB New York to change the perception of addiction among lawmakers and politicians, starting with attendees of the nation's major political conventions.
In Philadelphia and Cleveland these past two weeks, delegates have encountered a series of posters featuring the face and true story of a person who has been affected by addiction. One shows the face of Anthony, a CEO of a hedge fund, who has been in recovery for a decade. Another features Beth, a teacher at Jefferson Middle School. A third post shows Albert, a parent who lost his 16-year-old daughter to an overdose of prescription painkillers.
"Addiction doesn't discriminate," the posters read. "It looks like all of us. Together we can change the face of addiction."
By focusing on accomplished people, the campaign is meant to show that addiction isn't a moral failing, but a physical condition that requires medical help. "The 'Profiles' campaign will open people's hearts and minds to the reality that people suffering from addiction are not bad people and criminals," Hood said, "they're suffering from a serious health issue."
"By looking addiction in the face, said Icaro Doria, chief creative officer at DDB New York, "the campaign is challenging people to rethink so many of the stereotypes that come with the word addict."
The posters appear in "Recovery Wellness Rooms," alcohol-free zones that Facing Addiction helped establish at both conventions. The rooms are intended to be a safe zone for conventioneers suffering from an addiction and have hosted several addiction-related panel discussions.
"You would expect 10% of all people here are suffering from addiction, and that 10% are in recovery," said Hood about the conventions, "Now put them in a pressure cooker, and they really need a place to chill."
Hood's ultimate goal is to affect legislation, which is why Facing Addiction chose to stage its campaign at the political conventions. "When trying to change public perceptions, as well as policy, around a very complex issue such as addiction," he said, "it is a highly efficient and leverageable use of our finite resources to get in front of this kind of audience."
Already, the nonprofit has had success getting legislation through Congress. In March, the Senate approved the Comprehensive Addiction and Recovery Act, or CARA, which establishes a strategy to expand prevention and education efforts concerning drug abuse, mostly aimed at teens, parents and the elderly. Hood said the nonprofit worked all year in the House and Senate on two versions of the bill, which he calls "one of the most important pieces of addiction-related legislation to come out of Congress ever."
In 2014, 16.3 million American adults had an alcohol use disorder, according to research from Substance Abuse and Mental Health Service Administration (SAMHSA). In terms of drug abuse, the Centers for Disease Control (CDC) report that 21 million Americans are in need of treatment.
Before co-founding Facing Addiction, Hood, who calls himself a "strategy guy," had a long career in marketing. With more than 35 years in the field, Hood was CEO at Young & Rubicam's now-defunct The Lord Group and director of global business development at Young & Rubicam. In addition to his roles with Lehman Brothers and Credit Suisse First Boston, Hood served as CMO for Einstein Noah Restaurant Group.