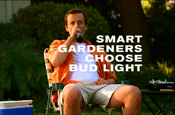 The two ads show a gardener and an older woman both finding smarter ways to do things.

The granny zips about town on her quad bike in a super-efficient manner, while the gardener uses a remote control helicopter to trim his lawn.

Alex Smith, marketing manager of Bud Light, said: "We are delighted to be launching the first TV advertising developed specifically for the Irish market."

Both ads were shot in LA and directed by John O'Hagan of RSA Films.