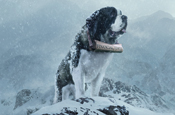 The new posters, by DDB London, are aimed at promoting the FT's reputation as a trusted source of global news.

Frances Brindle, global marketing director at the Financial Times, said: "This striking image clearly demonstrates the role played by the FT in these challenging times.

"At a time of crisis there is greater demand than ever for reliable, accurate, news, comment and analysis."

The posters, bought by the Financial Times' media agency, BJK&E, will appear across London from 1 December.