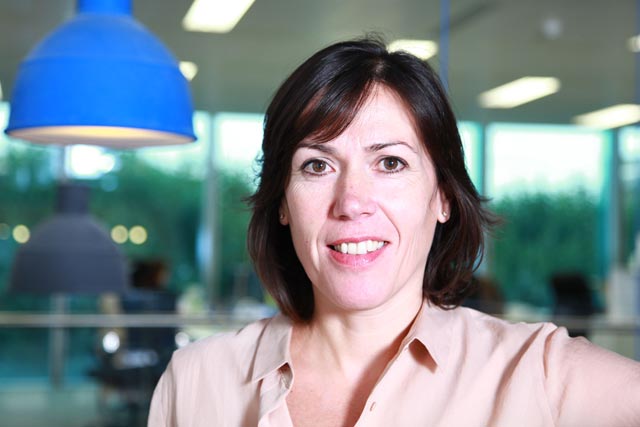 It's fair to say that Tracy De Groose, chief executive of Carat, Media Week's Agency of the Year, is not easily disconcerted, especially considering what she had to put up with the minute she had finished the agency's presentation to a scrutinous independent judging panel clinching the prestigious gong.
Let's just say the chaperone of said judges, yours truly, became overly paranoid with a feed piped into the presentation room, allowing the panel to talk to the Carat Manchester, Carat Leeds and Carat Edinburgh offices, and insisted that in observance with the secrecy of the process, all televisions must be turned off, with plugs pulled from their sockets to allow unobserved judge scrutiny. De Groose simply laughed, agreed and took it in her stride, brushing off the over-zealous nature of the act.
It's been a few months since that cold November night when, in front of 1,300 media professionals, Carat was awarded best in class, following what it described as its "best and most important" year. For those of you who have watched the video of the night, you may suspect that they were pretty pleased with the result.
De Groose sums it up: "[Media Week Agency of the Year] was the important one and the one we thought we might have a chance of winning. We said a year ago that we wanted to win that specific award. We set some targets around what success looks like and we produced a video at the beginning of last year that being Media Week Agency of the Year was something that we talked about."
She says it taught her that it's sometimes a waiting game.
"It didn't happen last year and that meant I had to learn the value of patience. We sort of felt that we'd earned the right to be shortlisted last year, but I think that this year, a lot of the hard work was coming through in results, and when you see that, that is when you realise that we were confident in our chance of winning the award."
Rate of change
The rate of change at Carat last year was head-spinning and rapid, and included a series of promotions across the agency (69 in total), the building of a true UK network with the acquisition of MediaVest regional operations adding offices in Manchester, Leeds and Newcastle, and the launch of its dedicated global business-to-business spin-off Carat Enterprise.
As if this wasn't enough, there was time to shepherd through a takeover from Asian full-service behemoth Dentsu (all but completed if it passes through the final box-ticking from the Ministry of Commerce of the People's Republic of China (Mofcom) and a move of the UK offices from the infamous and rather phallic Parker Tower offices to new – and it has to be said – very health and safety focused serviced offices at Triton Square, at the ascent of London's Great Portland Street.
Such are the security measures that Media Week has eschewed its staff photographer due to an admin issue.
You get the feeling that this is a bugbear to this particular chief executive, as an immediate polite apology is proffered in reference to the paperwork Media Week has encountered (it was only a quick form, but the acknowledgment is typical De Groose, who's known for not missing a trick).
Hardly surprising she's not such a big fan of red tape, as she probably had to cut her way through enough of it to change this agency's culture.
If the industry grapevine is to be believed, she got a "it's not broken, so don't try and fix it" summation from the senior management when she was appointed managing director of Carat UK in September 2010. This followed a year of consulting for Carat parent company Aegis Media and prior to that, she was one of the strategic doyens at Naked Communications, as its managing director, with a genesis in media client-side at Whitbread, on brands including Labatt's and Stella Artois.
The truth is Carat UK was at least chipped, if not irreparably broken, and had acquired a possibly unfounded reputation for being arrogant and unapproachable, which if you speak to many media owners over the past year, has softened to become inclusive and approachable. This is in no small part down to De Groose and her focus on new learning and development programmes, including the Carat School of You and Route 500, a UK-based initiative that has rolled out globally.
Creating energy and ambition
Employee focus is something De Groose has placed at the top of Carat's agenda, and she becomes animated when talking about, as it is obviously her personal fiefdom.
She says: "Through our people initiatives and focus we have created some momentum – we've created energy, we've created ambition. Out of that have come great things and I think the work is the most important."
De Groose cites this momentum as a driver of a step change in Carat's recent work, including some ingenious spoof work for Bodyform that went more viral than the particularly strong bout of flu that permeated the Carat offices just before Christmas.
"It's a really young team that did that and they did it off their own back and they didn't ask permission and it wasn't process-driven and they just did it and I think they did it because they felt supported and they felt inspired to do it and they wanted to do it," she says. "They wanted to do something good and inspired and a good piece of creative work."
Being a believer in shepherding your own destiny, De Groose seems to be prepared to let her charges try things out to reach their goals, although you do get the feeling this is controlled freedom and that the agency is not going to start to run amok.
She says: "The input is the investment in your people, the people stuff and the output is the work and I think this year we've won more awards than we've ever won, but it's not just about awards – it's about the diversity of the work because I think that media is far reaching and very broad.
"I think there used to be a bit of a formula about a winning media campaign, a bit of sponsorship with some content around the edges and you'd be lucky as an agency if you got one campaign a year that would truly shine through."
Obviously 2012 was not just about one campaign and she references clients Adidas and Cravendale as two other leading examples of clear and concise work.
"I think the Adidas Olympics work was brilliant, I think Cravendale, although being a bit more of a conventional great campaign, was rooted in creative insight.
"Instead of just the big idea, I think there is a lot to be said in the new world about lots of little ideas coming together," she proffers.
The bigger picture
As well as looking internally, this chief executive has a message for the wider media world as, if there isn't a wider change of mindset it will be increasingly difficult to break down the client boardroom doors, or steal the key to get to the top table at least.
She says: "We want to take media higher up the agenda, as it has often been on the periphery of other things and we're very passionate about media here and we think it deserves its own place.
"I think that those of us working in media should collaborate and come together to prove the worth of what we do and to get [media] on the radar of more clients, and to get more senior clients engaged. I think it's got a huge role to play in the driving of many businesses over the coming years."
Having a corporate giant make a £3.16bn swoop for Carat parent network Aegis surely can't harm those chances of getting further up the business chain. De Groose explains the explanation to the agency following the announcement of the Dentsu bid in July last year.
Business as usual
"The story to the business when the deal was announced was 'they've bought us for a reason and we have a five year plan that we're two years in to and they've bought us because of our ability to keep moving forward with that plan for the network'.
"So it is sort of business as usual and we are on a journey and we are continuing on that journey to deliver the growth that we've talked about, doubling the size of the group globally and we're on track to do that," she says.
"I think it makes us a credible global network and it's very important for clients, in Asia in particular. I think it's a very good accelerator to expand our global footprint in a way that most of the clients we've spoken to really buy into."
Regional focus
And the same can be said at both ends of the location spectrum, from the global to the local, with the regional acquisitions that De Groose has welcomed into the wider Carat UK fold.
She says; "Clients that might not normally have bought in to Carat, as Carat London isn't the right fit, have had other alternative offerings. So we have a number of clients that we've moved up to Edinburgh [formerly Feather Brooksbank] as they are a smaller agency for clients in the North and easier to get to and buy into a large agency, but to have a small agency serving mentality.
"It's been quite a seamless integration with the MediaVest acquisition and they buy what we're trying to do with the brand. It's not all conceptual theory crap, it's business results-driven and it's very commercial and that works really, really well for them."
As the interview concludes, with no requests to further unplug electrical equipment in this particular meeting room, Media Week throws the obligatory futurology question at the Carat boss. So what can we expect from media this year?
De Groose indicates that the clients that are willing to experiment will benefit.
She says: "I think that those businesses that want to embrace media and understand it and adopt a sort of test-and-learn mentality around some of the new platforms and new technologies and new ways of doing things will see a real benefit and value from doing that. Here's the budget, this is what we are trying to achieve, and we will reward you on your results."
She concludes: "It's not the 'what', I think it's going to be increasingly 'how' you do something, as in more real-time planning and more real-time buying and more real-time campaigns, more owned media rather than paid media."
Well, as the head of the reigning Media Week Agency of the Year, it would probably be churlish and foolish of us to argue.