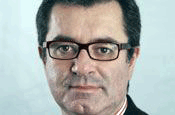 De Nardis, who stepped down from his role at Aegis in May this year, will be based in New York and will report to Daryl Simm, chief executive of Omnicom Media Group.

Simm took on the role of OMD Worldwide chief executive after Joe Uva left to become chief executive at Univision Communications.

Simm said: "As a team, we have firmly established OMD's position as the leading global media network. In the process, we have also confirmed that the trend towards global client relationships is accelerating.

"Mainardo's deep experience and global perspective provides the leadership that OMD needs to continue to stay in front of this trend and to provide our clients with the very best in global service."

De Nardis joined Aegis in late 2005 from WPP's Mediaedge:cia, where he was global chief executive.