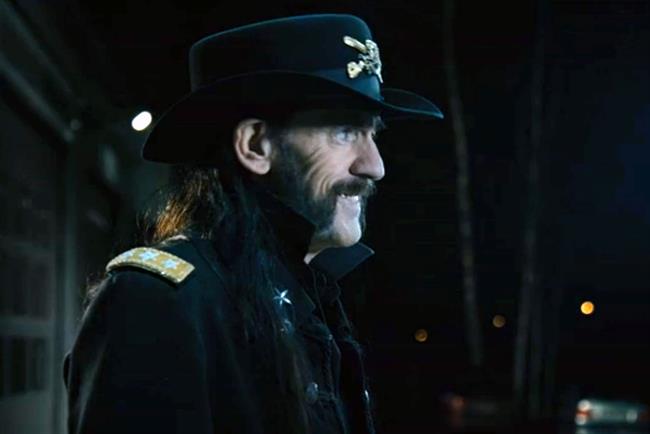 Lemmy, the late Motörhead frontman, known for living fast and hard, drinking Jack Daniels and happily taking money from advertisers – is starring in a milk ad. Barely a week after he died.
The ad for Finnish milk brand Valio is, quite simply, weird. Lemmy walks out of some kind of bar into a starkly lit deserted outdoor area where there's a plastic white table and set of chairs sat behind him, with classical music playing over the scene. He lifts his walking stick and points it at the camera, before saying bluntly: "I don't drink milk, and I never will."
"You arsehole."
He then smiles, and a message of tribute appears. Valio states the brand had originally been re-creating a classic Finnish milk ad with Lemmy, but changed the creative to produce this tribute after learning about the musician's death. Apparently it has been "well received" by Lemmy's management.
Whether it has been given the seal of approval by management or is genuinely something that Lemmy would have wanted, it still raises the question of whether it is ever appropriate to use dead people in ads.
If it's done well, feels culturally right and fits with the values of the deceased celebrity, then it works and can pass without too much judgement or backlash. Do it badly and it's creepy, offensive, or just gets you fired.
Terry Pratchett appearing in the first national TV campaign for Alzheimers UK just months after he died last year felt respectful. He appeared as one of many celebrities, including Seth Rogen, James Nesbitt and Arlene Phillips, whose lives have been touched by dementia, and who have all spoken publicly about the need for money for research into Alzheimers disease, and it worked.
Likewise the Oxo tribute to Lynda Bellingham saw the "My Christmas" ad re-shown on Christmas Day. The brand claimed it was what thousands of fans had asked for and it made a donation to charity action against Cancer at the request of the star's family.
But there are many examples of advertisers just getting it wrong. Using CGI to recreate a dead celebrity? It's just creepy, which is exactly what the Los Angeles Times said about the Audrey Hepburn Galaxy chocolate ad.
Then there's downright awful, like the Johnnie Walker ad in China that resurrected Bruce Lee – who didn't drink – through CGI, and featured him speaking in Putonghua, when the star had actually spoke Mandarin. It was pretty offensive and fans called it a "disgrace". One of the examples I hate most has got to be the Dr Martens print ad that used an image of Kurt Cobain, 13 years after his death, wearing a pair of DMs and white robes while perched on a cloud being bathed in a ray of light. Apparently it got Saatchi & Saatchi fired, unsurprisingly.
Lemmy may have switched from whisky to vodka as part of a new health regime earlier this year, but in the man's own words, he never drank milk. But then again, he wasn't known for drinking beer and he still did a Kronenbourg ad when he was alive because, he said: "We got paid a lot of money by a beer company".
Maybe the milk ad works because it fits Lemmy's philosophy of having no problem with taking money off advertisers to plug a brand – the fans' reaction will give the definitive answer on that.
Steven Bennett-Day is the executive creative director of Havas Helia