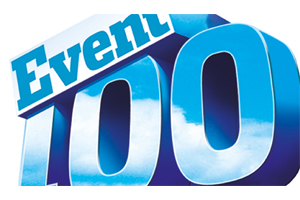 This gives you five more days to submit your entries.
The Event 100 Club is the definitive list of the most important individuals from all areas of the industry, including agencies, venues, suppliers, associations and brands, as well as freelancers.
How to enter
Candidates can either put themselves forward, or have a colleague recommend them. You will need to explain in no more that 500 words why you should be placed on the list based on the following criteria over the past 12 months (from October 2012 to October 2013):
Best personal achievement or highlight within the event arena
Number of events organised/supplied
Types of events organised/supplied
Best event organised/contributed to
Revenue generated
Contribution to the industry
Number of awards/accolades won
Quote from a client/industry contact on why they feel the entrant deserves a place in Event's 100 Club, based on their work in events. Please include the name, job title and company of the individual.
A high-resolution, colour photograph - no smaller than 1MB in size - must also be submitted as part of the entry.
Please ensure you include the full name, job title and company of the entrant.
To take part email eventmagazine@haymarket.com, and include Event 100 2013 and the entrant's name in the subject line of the email. Please include a detailed response for all of the above, otherwise your entry will not be counted.

Submissions will now close at 5pm on Friday 1 November.
To subscribe to Event's The Guide 2014, which will contain the full 100 Club 2013 list, click here.