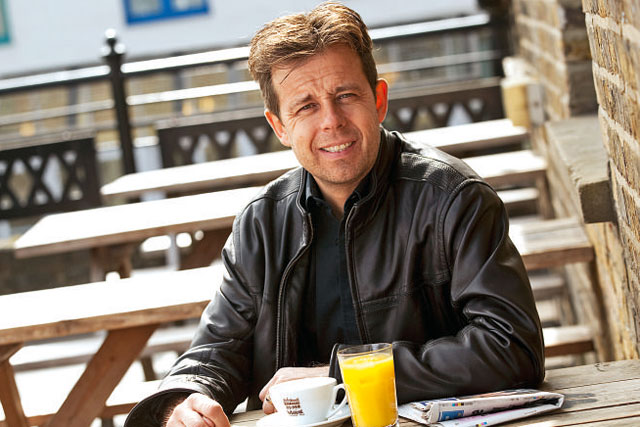 Pat Sharp presented his first daytime show for BBC Radio 1 at just 20 years of age, back in 1982. Following a year on air, plus numerous Top of the Pops TV appearances, he went on to host mid- mornings ?at 95.8 Capital FM for a decade. Along the way, he picked up a gold Sony award, while also notching up seven hit singles and raising more than £300,000 for charity as part of pop duo Pat & Mick.
He took his mid-morning slot to the top again as part of seven successful years at London's Heart, becoming the only DJ to rate number one on mid-mornings in London on two different stations.
Pat's radio shows have aired on the British Forces Broadcasting Service for ?our troops worldwide, along with in-flight programmes on Swissair, Sabena and Britannia Airways, to name but a few. On TV, Pat hosted the number one ITV show FunHouse for 11 years, plus What's Up Doc?, 10 Sharp and The Gala Opening of Disneyland Paris, as well as Challenge TV's Prizetime and Sky One's UK Top 40.
Describe yourself in 140 characters or less Outgoing, fun and full of energy. I am young at heart and note that it is nice to be important, but more important to be nice.
What is the best thing about working in media? It is an industry that never fails to be interesting and always different.
Where and how do you get your best ideas? They are always when I am on air and often while I am actually speaking.
What is your greatest media achievement and why? Surviving 30 years in radio and TV.
The soundtrack to my life
A-HA Take On Me
ANDREW GOLD Lonely Boy
BEACH BOYS Help Me Rhonda
DONNY OSMOND C'mon Marianne
SEX PISTOLS Pretty Vacant

What do you think will be the biggest change in advertising in the next five years? More programme sponsorship, less actual commercials.
Is age important when it comes to making friends and contacts? Not especially.
Is the demographic dead? Not sure – ?I haven't announced it if it is.
What do you owe the 'new 40s and 50s'? Or what do they owe you? They owe me an IOU.
Are you a breakfast or a drivetime person, and why? Breakfast… seize the day and the sunshine.
What is your earliest radio memory? Tuesday 16 October 1973, 5am: 'This, for the very first time, is Capital Radio.'
What's the best thing about radio as a medium? FM – it is so much better than medium (wave).
What's your favourite radio advertising campaign and why? Coca-Cola, because it is always based on pure fun and happiness.
What does Smooth mean to you? It is the soundtrack to my life, past and ?present. It is always feel-good, even when chilled out.