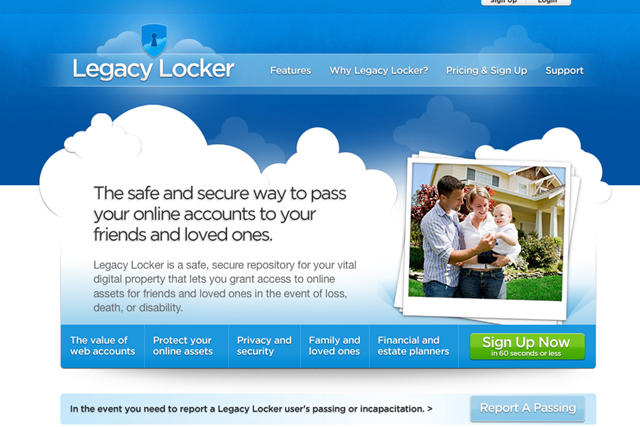 Possibly the greatest lie in human history is the adage that 'time heals all wounds'. When you lose someone you love, grief can manifest itself in an intricate and ever-evolving kaleidoscope of pain.
Now, yet another level has been added to the complex layers of bureaucracy that face those dealing with bereavement.
The digital footprints we leave on social networks such as Facebook raise myriad questions and challenges for those who survive us.
We are facing up to a unique stage of human history, in which we are building our digital legacies every minute of every day, creating what Hans-Peter Brondmo, head of social software and services at Nokia, calls our 'digital souls'.
Where once consumers were faced with the continued barrage of direct mail to lost loved ones, in the Facebook age memories of the dead are stirred in an array of new and painful ways.
When the social network launched a function that included suggestions of people with whom to 'reconnect', the web was quickly awash with complaints from those whose suggestions included friends on Facebook who had, in fact, died; the very cruelest of surprises.
Despite introducing policies such as memorialising profiles, Facebook has struggled to prove that it truly has a heart; that it will do all it can to support and safeguard the memories for those left behind.
Brands also risk appearing insensitive; I recently visited an RIP site on Facebook only to see a sponsored ad for life insurance from Tesco - tasteless, to say the least.
Of course, when you lose someone you love, their mark on the world is so much more than a digital footprint: there is an imprint on your life that is beyond the reach of any social network.
THE UPSHOT
What brands should know about digital legacy
Digital mourning
The popularity of memorial pages on Facebook shows no sign of abating. Chief marketing officers need to ask themselves whether they really want their ads to appear next to the legion of pages dedicated to memorialising lost loved ones. You wouldn't site a billboard next to a gravestone; why should the web be any different?
Difficult questions
From the Army's struggle to ensure it can beat the internet to be the first to speak to families of fallen solders, to Facebook's legal battles with families seeking access to the pages of their dead children, the thorny issue of how to deal with death in the digital age is here to stay. Facebook's terms of service say it will not issue log-in information to the family of a user who has died. However, a family member can request the dead person's profile be taken down or turned into a memorial page.
A question of digital legacy
Online services like Legacy Locker, SecureSafe and Cirrus offer options to consumers who wish to store their legacy. While people struggle to process their grief or decide how to deal with their digital legacy, however, brands must act with compassion and discretion.
@nickykc
Follow @nickykc