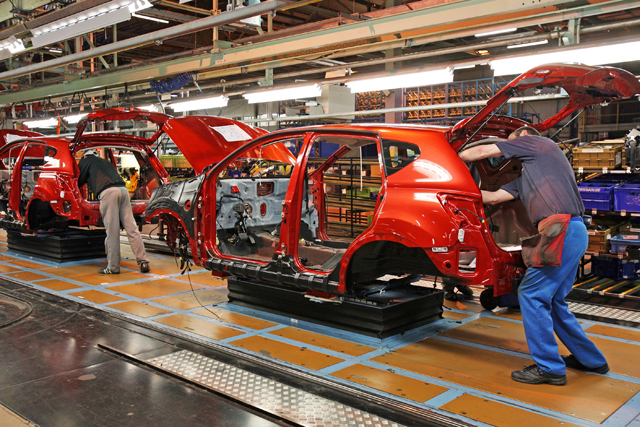 Last week, the Society of Motor Manufacturers and Traders (SMMT) revealed 'better than expected' sales of new cars in the UK, with the overall market up 4.3% year on year. However, any thoughts of a burgeoning confidence in the sector ought to be dismissed - across Europe concerns are growing for the very future of the Continent's biggest manufacturers.
The traditional mass-market 'big beasts' of the industry - Opel-Vauxhall, Renault, Fiat and PSA Peugeot Citroen - are sliding into ever-deeper trouble. PSA registered an EUR819m (£661m) loss in the first six months of 2012, on top of 8000 job cuts, while Renault's profits plummeted 39% year on year over the same period. At GM-owned Opel the situation is even worse, with some analysts predicting annual losses of EUR2bn (£1.6bn). Even robust Ford is licking its wounds in Europe, in anticipation of a EUR1bn (£808m) loss this year.
Expert View: Dominic Chambers, Audi
Such a doomsday vision would be understandable if the entire sector were suffering comparably, but it is not. The market share of the German premium marques, led by BMW and Volkswagen (VW), is creeping up, while at the other end of the spectrum, the hitherto unfashionable Korean marques, Kia and Hyundai, have begun gnawing away at the mid-market giants.
Economic woes
The eurozone crisis has certainly taken its toll, causing tumbling sales in manufacturers' home markets, like France and Italy. However, some observers believe the firms are using the global recession as an excuse for wider brand problems. Rahul Sharma, managing director at investment consultancy Neev Capital, uses the analogy of British supermarkets, where struggling giants such as Tesco are book-ended by the successes of premium Waitrose and value-led Aldi and Lidl. He argues that the brands performing strongly are those that are adapting to a 'two-speed economy'.
'It is easy to blame the economy, but it's not all to do with that,' says Sharma. 'The fact that the German brands are doing well reflects the two-speed economy we are seeing. It is remarkable how well the VW brand is doing in Europe, but people like the quality promise. There is a real divergence between quality and value.'
According to Tim Gosman, senior consultant at The Brand Union, the mass-market car brands have found it tougher to create a distinct positioning with which to attract car-buyers. 'What you want is a compelling narrative about what makes a brand. At the top end you have romance, at the bottom end you have realism, and it is easy to build a narrative around these topics,' he says.
A lack of successful, incisive marketing is cited by many, such as Audi UK marketing director Dominic Chambers (see box), as a reason for the decline in brand equity. Yet, for a host of car marketers, the impetus to drive sales is so great that any such arguments about investing in brand-led advertising are destined to fall on deaf ears, and a vicious circle of falling sales and dwindling marketing budgets is unavoidable.
Renault in reverse
Take Renault: 10 years ago, the marque - famous for its 'Papa and Nicole' TV ads in the 90s - was one of the big-hitters of the UK industry, with a market share of more than 7.5%, according to the SMMT. This has now fallen to below 2%, although Renault would point to ongoing efforts to renew its portfolio with a range of electric vehicles.
Vauxhall has similarly struggled to retain its market share. However, the brand is bullish that the launch of 'brand builder' models, such as its Ampera electric vehicle and Adam city car, will help it to 'embrace new customer segments' and prevent a decline in sales.
Nevertheless, beneficiaries of the growth in value-savvy consumers, such as Kia, insist their meteoric rise is not the consequence of some recessionary blip, to be corrected when the economic climes improve. Indeed, both Kia and Hyundai have now made it into Interbrand's Top 100 Global Brands list.
Rival manufacturers complain that the South Korean sister marques have been propped up by favourable labour and import policies in their domestic market, but Kia UK marketing director Lawrence Hamilton insists they are built for long-term success. 'In better times, people might start thinking to themselves, "Maybe I can stretch to a BMW, an Audi or a Jaguar". I can't see people thinking, "Great, I am feeling a bit wealthier, I'm going to swap my Kia into a mid-market brand". Our brand is getting stronger and when we join that club I can't see it going backwards,' he says.
Hamilton (pictured, right) adds that this change in brand affiliation is driven by a lack of 'human loyalty' in today's car-purchase process, with consumers scouring the internet for the deals, when in the past they would have relied on local dealerships. 'In a recession, the internet has made it easy for customers to find other buying options and gravitate toward brands offering value in a way they would not have done before,' he says.
Residual value
One mass-market brand that has avoided this attrition in market share, in the UK at least, is Ford: it remains the biggest-selling new car brand in the country, with a market share of nearly 14%. Ford's UK marketing director, Anthony Ireson, attributes its resilience to a slight upmarket shift, allowing the brand to grow the 'residual value' of its cars - namely the amount for which a vehicle can be resold in the second-hand market.
'People don't see us as the mass-market brand our market share would suggest. They put VW ahead of us, but others below. In the past few years, people often lumped Ford and Vauxhall together, but we have moved ahead and are seeing that with the growing residual value of our vehicles,' says Ireson.
He also claims investment made by Ford in new product development at the height of the credit crisis set it apart from its rivals, which have attempted to attract customers back with 'the same chassis' rather than fresh products. 'People will buy a brand out of loyalty once, but not twice,' says Ireson. 'When your iPhone contract expires, there is always a new model on the market. Customers expect newness; expectations keep going up.'
Pressure on the middle of the market is set to continue, leaving marketers at those brands with a dilemma: either to generate enough credibility to move to a premium positioning, or find a way of competing with entry-level brands on price. Neither will be easy, but the alternative - brands such as Vauxhall, Renault and Peugeot disappearing from our roads - seems inconceivable.
EXPERT VIEW: Dominic Chambers, UK marketing director, Audi
'Consistency of product and desirability from a brand point of view can be seen from the fact that we have been running "Vorsprung durch technik" for 30 years. We spend 85% of our media budget on brand and only 15% on tactical, and I think you will find that a lot of our competitors are the opposite of that. They are in a tactical cycle, and forgetting about the desirability of the brand itself. It then becomes harder and harder to make tactical work.
'We all know about trying to build brand equity - it takes time. If you do one thing, then leave it for two or three years, that doesn't work. It must be a consistent push. For Audi, a lot of customers buy into the brand then work out which model works best for them. We achieve efficiencies in media and production because we focus on the Audi brand first. When you focus on one model, it may be quite successful, but it does not drive success across the board.'